Take a good look
Invite your children to go on a plant safari through the house with you, armed with a magnifying glass, sketchbook and pencils. What do you see? Are the leaves smooth and firm, soft and round, or are they hairy? Take a close look at the emerging fern leaf that slowly unrolls. How many tiny petals does the hydrangea actually have? Or the Zygopetalum? Can you draw them? And do you have enough pencils for all the colours of a Strelitzia?
First steps — with a watering can
Early habits last a lifetime. It may be a cliché, but it's a good one. Once your child learns that plants need water, then watering becomes a fun ritual. With their own watering can, children can take their first steps towards a fresh, green kingdom, with plenty of calming influences. That's a gift they can enjoy for the rest of their lives.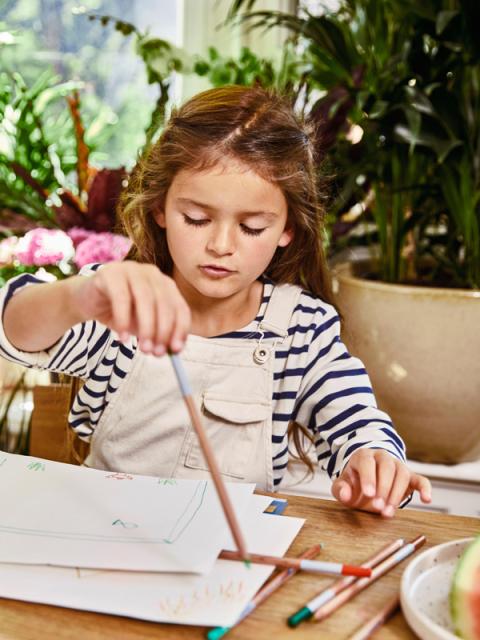 Surprise and delight
Every plant is different in terms of its appearance and care needs. So treat the kids in your life to a collection of different botanical wonders. That way they will learn the differences between a bouncy Kentia and an exotic bromeliad. They'll soon discover that the leaves of a Calathea are totally different from the Monstera*, let alone a flowering Kalanchoë or Anthurium. Plants are so varied, and so beautiful.
---
*Be careful: while Monstera is fabulous, it's definitely not suitable for human consumption. In fact, it's harmful if ingested. With very small children, consider whether to place a Monstera in their room, or whether to opt for one of the other plants instead.