The most eye-catching feature of pampas grass, a.k.a. Cortaderia selloana, is its fabulous silver-white plumes. The plant flowers in September, but in reasonable weather conditions, the plumes will remain beautiful for months. The green and sometimes variegated leaves also make this tall grass species a real beauty. Long, narrow and elegant, they sway in the slightest breeze, bringing natural movement to your garden and patio. Because the plant grows tall, it provides plenty of greenery and display at a height where not many other plants flower. The plant will remain smaller in a pot than in the ground.
Tenacious and swaying
Pampas grass is native to South America, where the plant grows in the wild in Argentina, Brazil and Uruguay. When planted in the ground, it can reach a height of 3.5 metres in Europe as well, although it remains slightly smaller in pots. Its reed-like appearance means that it is often planted around ponds, but actually the soil is too damp for it there. The plant's tenacity is demonstrated by the fact that it usually still manages to survive. However, ideally the plant prefers a drier, spacious plot so that the wind can play with the narrow elegant leaves. The taller the plant, the more cold it can tolerate.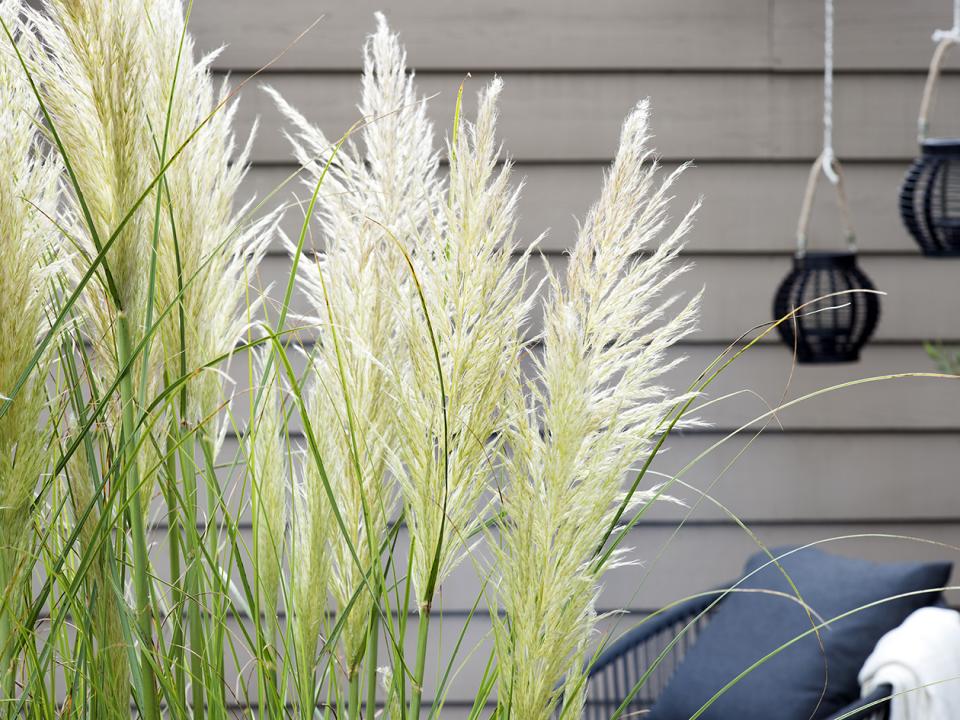 Lonely height 
Grasses are trendy garden elements with a very natural look. A modern garden can be softened with pampas grass. In a wilder garden it's a fabulous plant for creating perspective and filling difficult gaps in the border up to fence height. Pampas grass also has an attractive coastal look for anyone seeking to create a 'seaside garden' feel. The plant looks chic in a large black pot with a high-shine finish. If you're looking for a 'back to nature' look, weathered and bleached wood is a trendy combination.   
Pampas grass trivia 
● Useful to know: soft silver-white plumes grow on the female plant. Male plants are more rugged, less elegant and produce greyish pink flowers.
● The Latin name Cortaderia refers to the leaves. 'Cortar' means 'cut' in Spanish. The leaves are quite sharp, so wear gloves when planting or cutting back.
● In the winter the yellow leaves provide an excellent hibernation spot for small garden animals.
● Leave the dried cut plumes and stems lying in your garden out of sight - birds like to use them to build their nests.
● The dried plumes look great in a vase, either indoors or on the garden table.
● An urban myth says that pampas grass in your front garden is good way to let swingers in the neighbourhood know that you're up for some wife-swapping. Don't say we didn't warn you!