Green in the winter and glowing purple and pink in the autumn - that's ling heather. This plant is also known as Calluna, it's a European classic and the perfect complement to winter heather or cross-leaved heath. Planted in the ground these plants form a thick, hardy carpet with a calm, authentic look. This fits perfectly with the current popular mood that plants should be left to do their own thing to some extent. In pots and containers ling heather is a robust feature plant with a strong shape. The plant grows in beautiful long shoots with overlapping leaves and small symmetrical flowers, combined, providing  a great deal of colour. 
Robust with colour
Ling heather grows somewhat taller and looser than winter heather, which reinforces the 'back to nature' look. The branches can reach a height of 1 metre, although they usually remain below that. The plant flowers in September and October. In the wild the primarily purple and pink flowers result in beautifully coloured slopes and heathland, whilst in the garden the plant has the same effect. However, the beautiful contrast with the green or variegated foliage is much more visible on a smaller scale. The plant combines very well with grasses and groundcover. Ling heather is also excellent for drainage in the garden. The roots allow rainwater to drain well and thus maintain the natural equilibrium.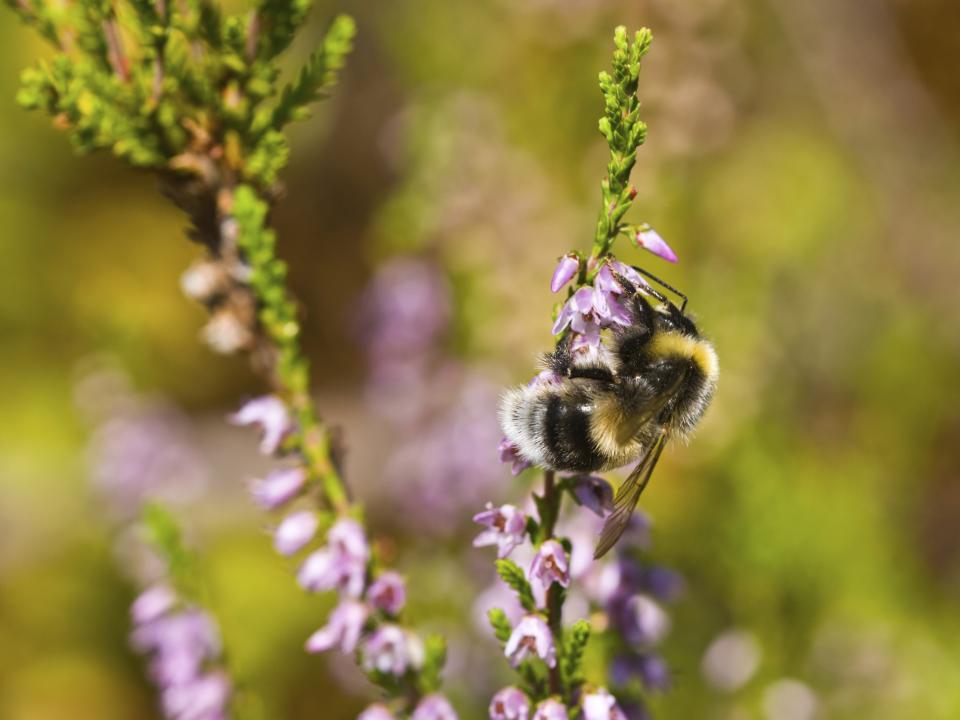 Perfect seasonal bloomer
Ling heather looks its best before winter heather comes into bloom. Thanks to this perfect sense of timing, this strong native plant provides fresh colour in the garden and on the patio once the summer bloomers have passed their peak. The somewhat wild, unrestrained look of this autumn-flowering plant is reinforced by placing a couple varieties together. Opt for a rugged heavy base which will remain upright in the first storms of autumn, and place a number of plants together in order to make a real impact. 
Surviving for centuries 
Ling heather is found in the coastal areas of Western Europe, Great Britain and Ireland with a maritime climate and damp conditions. In the wild this tenacious specimen can often be found on slopes, dunes and embankments where water can drain well. 
Trivia
The official name is Calluna vulgaris.

Ling heather is one of the most important sources of heather honey. Bumblebees and honeybees love ling heather, and use the nectar to top up their stock of honey for the winter.

According to herbal medicine, honey made from ling heather is said to be beneficial for bladder and kidney complaints.

The branches of ling heather were often used for brooms in the past. Calluna comes from the Greek word 'callunoo' which means 'cleaning'.