You probably already have some greenery in your living room, maybe a statement plant or a family of different-sized planters. Your dining room might have an indoor tree or hanging plant, and chances are there are herbs on the kitchen windowsill. Read on to find out how to introduce plants into the other rooms of the house.
Wake up next to alocasia
Few people bring plants into the bedroom, saving them for rooms like the living room or dining room. If this sounds like your home situation, try placing an alocasia on your bedside table. Just the sight of this pretty plant will help you relax, creating the perfect conditions for a nap. If you're still struggling, the pattern of the leaves gives you something to meditate on when you doze off. Take deep breaths, and feel yourself drifting away.
In the bath with bromelia
There's nothing like a relaxing soak in a hot bath to help you destress. Fill the tub with lavender bath salts, and position a bromeliad beside you to keep you company. It'll be very happy there: the plant gets a lot of its nutrients from moisture in the air, so it will love the steam coming off the water. The tropical leaves will also bring colour to the room, and creating an attractive contrast against plain white tiles.
---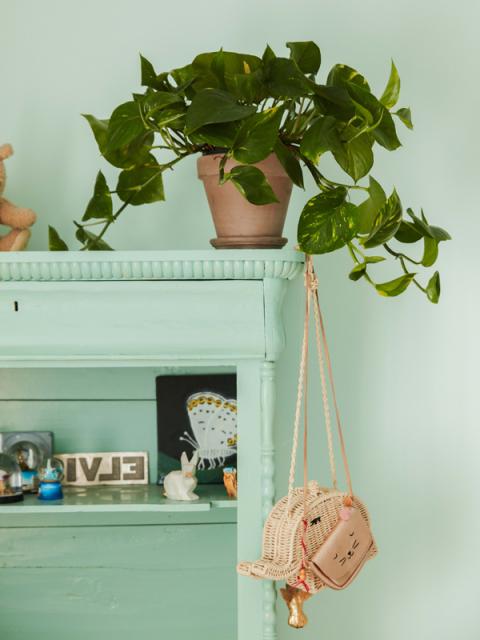 Something for the kids…
It's never too early to introduce children to plants. Place a couple of smaller plants like the Kalanchoë blossfeldiana in the playroom and begin to teach your child about greenery. They'll learn about the botanical world, and enjoy the positive effects of flowers indoors. Choose the plant together, water it, find it a good spot and encourage a new green friendship to bloom.
---
Working with green energy
In your office, there may not be much opportunity to relax. Our brains are working overtime with studying, meetings, emails, research and paperwork. It means that a few plants, placed judiciously, can make a real difference. An experiment by Helen Russell at the University of Surrey showed that people working on difficult assignments are less stressed when they are in a plant-filled room, compared to those in rooms without plants. One extra tip: choose less demanding plants for your desk, such as echeveria, then you won't catch yourself worrying about them.
What plants enhance your bathroom, bedroom, study or playroom? Show off your domestic greenery on Instagram with #thejoyofplants.