This season we're using different colours, shapes and textures to create an impressively cheerful atmosphere, combining both indoor and garden-based plants to great effect. The combinations may look strange at first - but the longer you stare, the more entranced you'll be. The overall look is inspiring and semi-surreal and will get your imagination flowing.
HOUSE PLANTS
MEDINILLA
We're starting out with Medinilla. With its tropical appearance and bright pink flowers, it's a real eye-catcher and shouldn't be missed out of this Trend Collection. To bring this style indoors, how about crafting a Crazy Illusions hanging pot or a coloured plant stand to bring some fun to your living room?
HYPOESTES AND FITTONIA
You can't have a Crazy Illusions trend without Hypoestes and Fittonia. While they look like they were made for each other, they differ in terms of leaf structure, how they grow and how you care for them. Our styling tip? Make a lush pink border of these small plants for larger houseplants. 
PHILODENDRON
Unleash the artist in you with Philodendron! Thanks to its vibrant, abstract shapes, this plant has the honour of being a muse for many artists. Picasso used Philodendron in his sculpture "Woman in the Garden". Get inspired by art and create your own artwork with this special plant, which symbolizes health and abundance.
BROMELIA AND CALLA
The Bromeliad is a symbol of protection, thanks to the full, green leaves which surround the beautiful colours of this plant. Calla, meanwhile, is also known as the pitcher plant, as the Greek gods are said to have drunk from its chalices. This plant's unusual shape matches this style trend perfectly and like Philodendron, has been lucky enough to inspire artists ranging from Diego Riviera (The Flower Vendor) to Georgia O'Keeffe. Put the Bromeliad and Calla in the spotlight by giving them a special place in your house. Try placing a mirror behind them, lighting a candle and enjoying your Crazy Illusions altar!
RHIPSALIS
Rhipsalis completes this Trend Collection of indoor plants thanks of its great diversity, especially in its stems. Ranging from thin and long, to wide and ribbed, to curly and round, it really fires the imagination and matches perfectly with a pink wall behind it.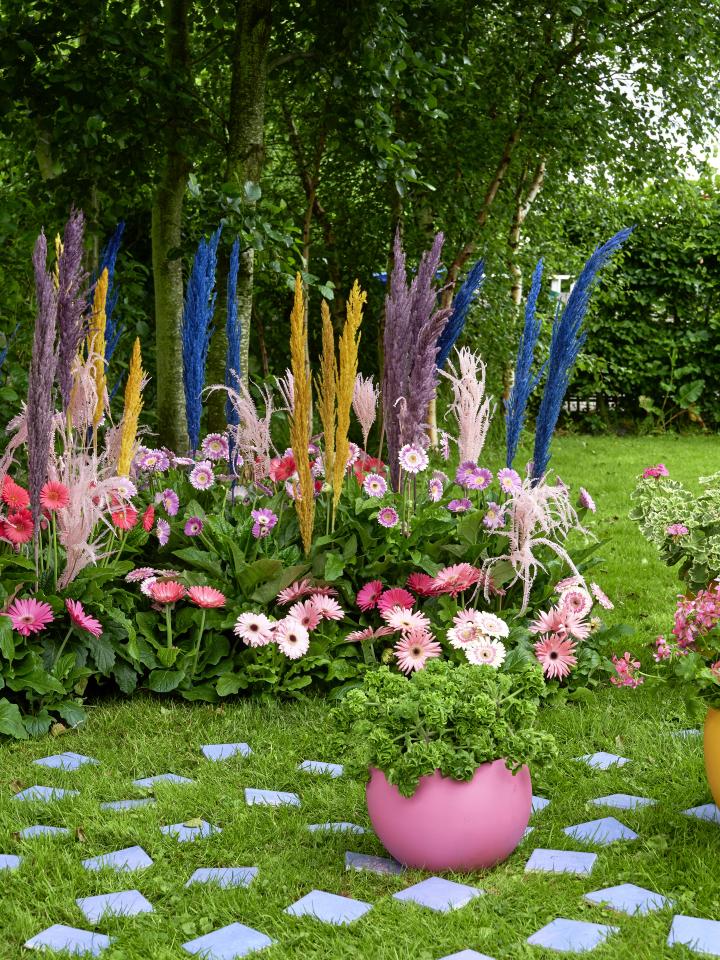 GARDEN PLANTS
GERBERA
Whether you're blessed with a huge garden or are building your outdoor haven on a tiny terrace, there will always be a spot for a 
gerbera
. Coming in more than 600 different shapes, colors and sizes, the gerbera is perfect for creating a truly fairytale-style garden, and we guarantee there'll be one to suit you. Choices include bright coloured flowers or soft pastels, and from miniature-sized to lush and expansive. With the option of single or double flowers, yan rest assured that gerbera's exotic shape prevails whatever style you choose. 
GERANIUM
The
geranium
might feel old-fashioned, but in fact, this old-school beauty is a great option. With stunning green leaves and beautiful flowers that can range from bright red to, snow-white, orange, purple, bright pink and even striped, geraniums make you dream of exotic vacations. What's more, it will bless your outdoor space with both fragrance and colour for three seasons out of the year. What could be better than that?
CITRUS PLANT
You can't sleep on 
citrus
when you're looking for exotic, playful plants. As well as having beautiful coloured flowers and a sweet scent, you get to harvest the citrus fruit at the end of the season. This Mediterranean beauty also stays green all year round, which you'll appreciate come winter. 
PALMS (PHOENIX AND CHAMAEROPS)
Want to sit out in your garden and pretend you're on a tropical beach somewhere warm and sunny? Palm plants bring that energy even when it's drizzling outside. Plants such as
Phoenix
(date palm) and
Chamaerops
(dwarf palm) evoke the feeling of long summer evenings and sandy toes and therefore fit perfectly with this Trend Collection. Create a tropical atmosphere and dream about your next vacation while you watch the leaves wave in the breeze. 
All of these outdoor plants are suitable for creating a colorful, dreamy and magical Crazy Illusions garden.

Curious about the flower Trend Collection for spring/summer 2021? Check it out here. 

Follow us on Pinterest and Instagram for even more ideas in a Crazy Illusions style. Or check out our lookbook for more inspiration!