Hanging gardens
Flowers all summer long
If you don't have much space on your balcony or patio, try vertical gardening by creating hanging gardens. This will provide you with a green paradise whilst still having enough space to sit in the sun. The longer the summer lasts, the more beautiful the hanging gardens become. As long as you give them enough water and remove the exhausted flowers, they will continue to grow and bloom.
Tip: If you have a tree with low-hanging branches or a pergola in your garden, that's the perfect spot for hanging gardens!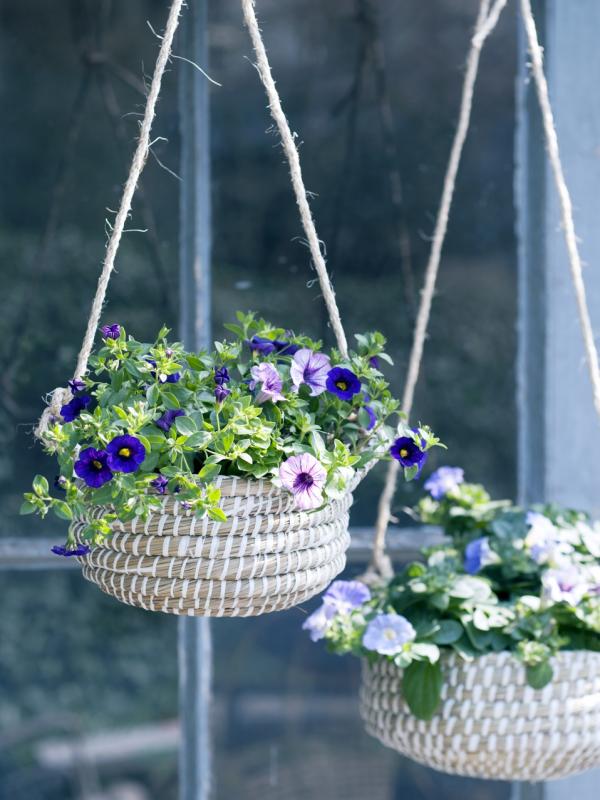 Mix and match!
What a delight it is to hide behind the floating greenery. Start your hanging gardens when the risk of night-time frosts has passed, usually mid-May. You can create them by mixing various small plants such as Pelargonium (geranium) Verbena, Petunia, Calibrachoa (mini Petunia) and Fuchsia or hanging them up in individual pots. This will create gardens with a natural look. 
Pots and baskets
It is best to use a pot with good drainage in which you place a layer of gravel or pot shards to make the hanging gardens. Hang them up securely, because the hanging garden can get very heavy. You can create a plant hanger using attractive coarse string which you can suspend your pots from, or make 'hanging pots' by tying sturdy string to baskets. 
List of plants for your hanging garden:
Pelargonium peltatum (trailing geranium)
Verbena
Fuchsia (balcony plant 2015)
Petunia
Calibrachoa
Care and position:
Hang your garden in the sun - the plants will like that.
Ensure it has rich soil, and feed once during the season.
Give them plenty of water, particularly on hot days, but ensure good drainage.
If you are going on holiday, think of a watering system or drip system using a PET bottle.
 Inspect your hanging gardens in the evening and cut away the exhausted flowers. This will encourage fresh buds and flowering.