Grassy pond
For this micro pond you have to roll up your sleeves, but then you also have something to show for your hard work. Dig a shallow hole in the ground, place a sturdy plastic container inside, and fill it part way with water, before placing a few attractive aquatic plants. We used rough horsetail, Rotala indica, the carnivorous trumpet plant, pink water lily and watermilfoils.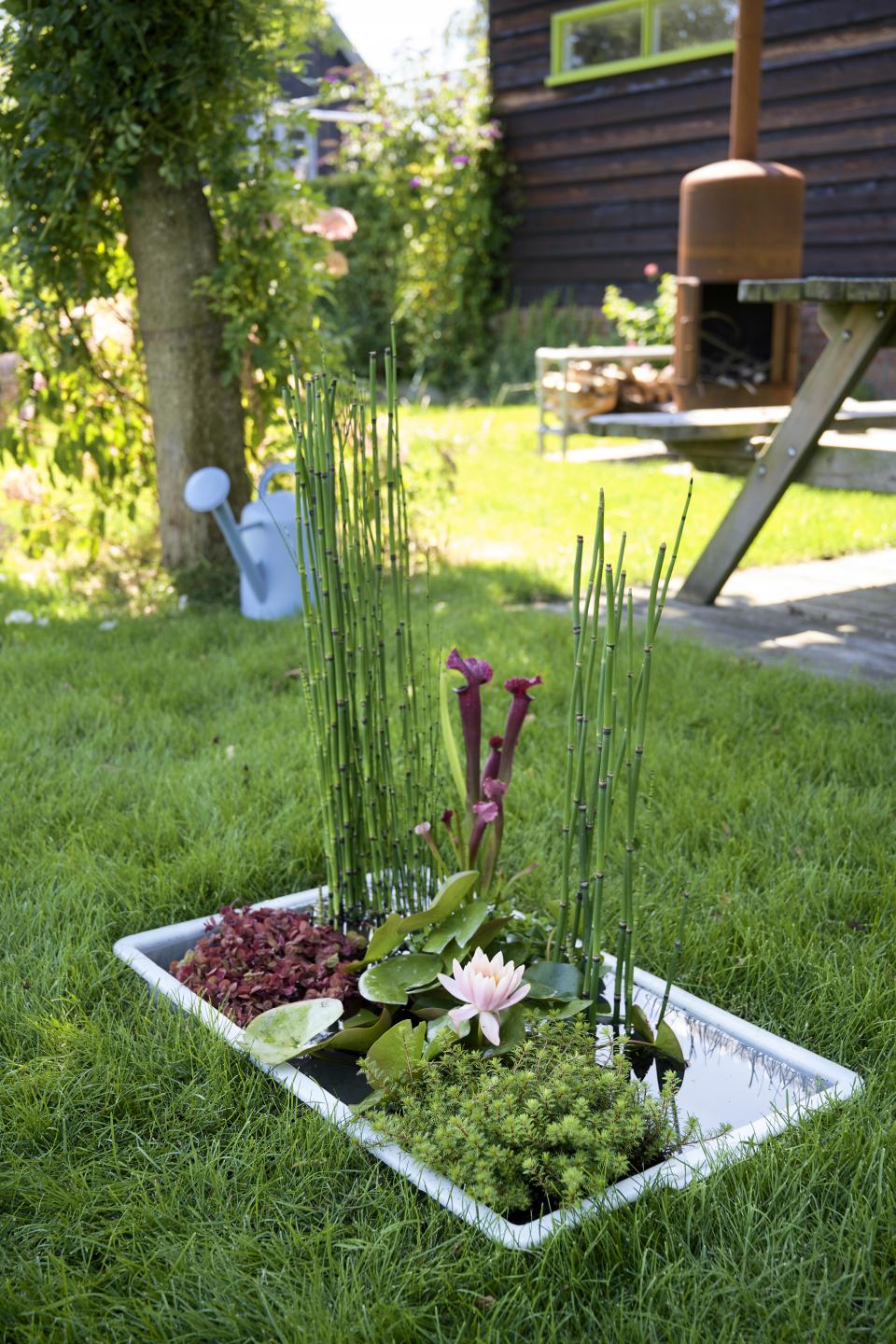 Water paradise
With a little creativity, a few litres of water and some wire to secure the plants in place, it's easy to turn a large garden planter or upcycled basin into a pond. Put a few together, with rough horsetail, Umbrella Plant, pickerelweed and Mimulus ringens in each, to create your own water paradise.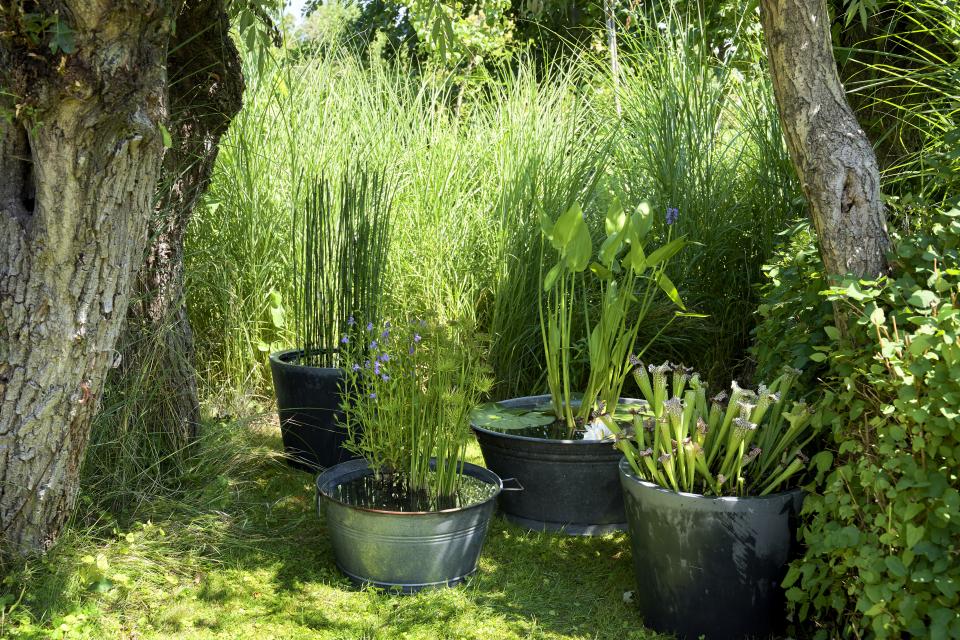 A tiny island 
Create an aquatic feeling outdoors with a mini pond on the garden table. Prepare a glass container or aquarium with a layer of soil mixed with sand at the bottom, then fill it with water. Make a micro jungle in the centre by placing several water plants together in a pond basket that you submerge under the water. Large stones will keep the plants in place and provide an interesting feature. We used Papyrus, dwarf papyrus and beakrush.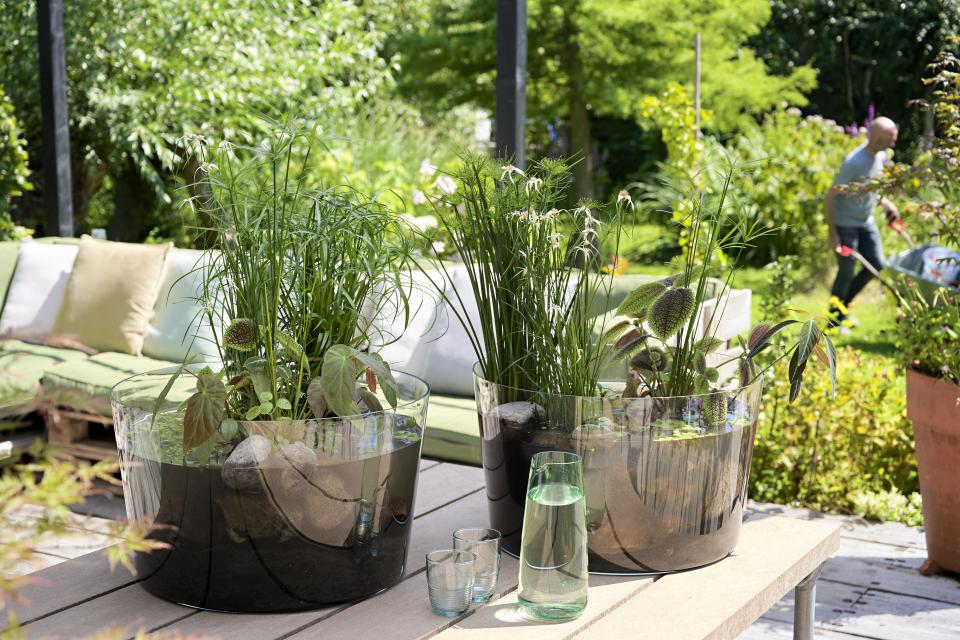 Kid-friendly
Making mini ponds from plastic containers is a fun DIY to do with kids. Take a trip to the garden centre together to pick out varieties of water lettuce, American frogbit and Marimo moss balls. Then, back at home, get your kids to set up the pond. Place the plants in a clear plastic container, so you can watch how everything grows.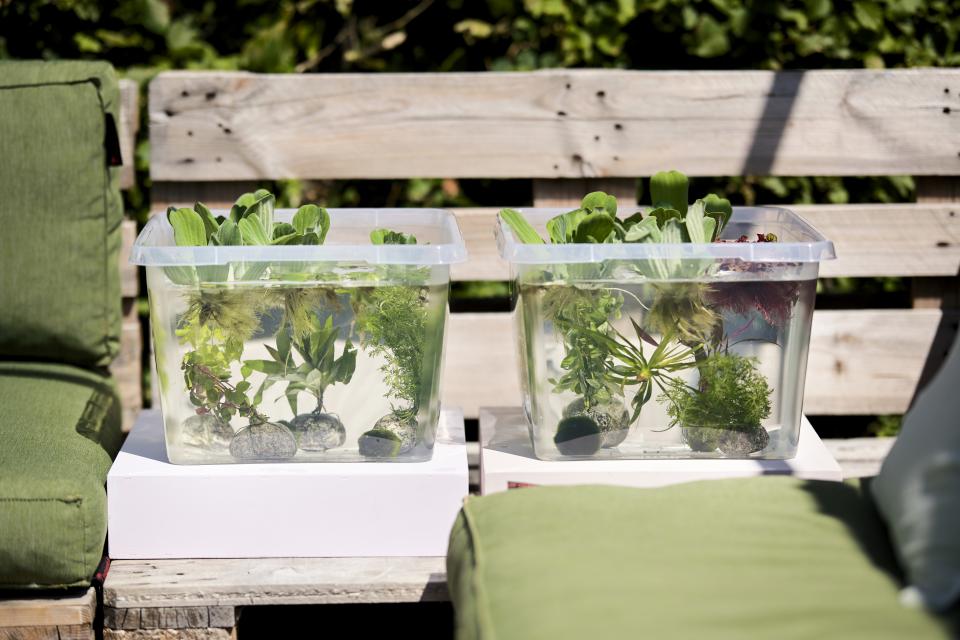 In the UK we quite often have rainy summers. Avoid overfilling your mini-ponds, so the flood risk stays low.
Note: never place aquatic plants in open water as some species grow quickly and push away native wildlife.
MORE SUMMER INSPIRATION
Share your summer with us on Instagram and Facebook. Want more summer inspiration? Discover these 5 wonderfully scented plants, or be inspired by this summer table full of flowers and plants.