Think outside the box with your Kalanchoe
A limit is really just something you want to go beyond
Kalanchoe is a strong, easy houseplant that you can experiment with endlessly. Why stay in your comfort zone when there's so much more to experience outside it?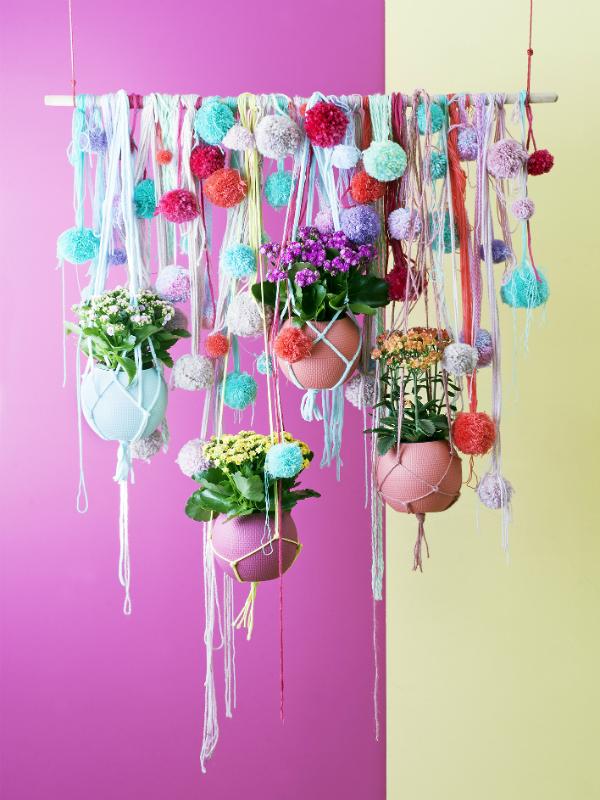 Thinking outside the box is hot. And and no plant is better suited to a sideways look, a fresh approach and paradigm shifts than the Kalanchoe. This tropical survivor is known as a lavishly flowering windowsill hero that can cope very well with sun. But this houseplant can also shine horizontally in a colourful green wall. Or suspended in the air as kokedama or a hanging plant. And then it looks so different that the effect is multiplied. That's what happens when you start thinking outside the box.   
Yes, but what works? 
Classic outside the box: 'Keeping things simple is quite complicated. Making things complicated is quite simple.' Take these hanging Kalanchoes. It looks complicated, but involves nothing more than making pom-poms, knotting together plant hangers and placing Kalanchoes in them. The vertical lines create a very lively visual effect, whilst the flowers and wool give it a delicate appearance. That fits perfectly with the current summer interiors trend in which things are given a twist and can be full and busy. 
Listen to your heart - it's always right
You can see this Kalanchoe as the indoor version of a Clootie tree. That's a Celtic wishing tree on which textile offerings are hung for improved health or new love. Preferably use natural materials like wool or cotton, and wish yourself lovely cheerful summer!