HOW TO MAKE ROOM FOR PLANTS EVERYWHERE IN THE HOUSE
Whoever thinks that Plant Design is only suitable for large rooms is wrong, as even smaller rooms can be decorated around your green companions. Transform any room, however small, into a space worthy of Plant Design. For example:
1: On the wardrobe
Achieving height with plants is easy. By placing plants on top of your closet, you give them centre stage without taking up valuable living space. You can choose 'normal' plants, but don't forget the hanging plants, as they'll have all the space they need to flourish atop a cabinet. Try, for example, of Aeschynanthus, Ceropegia and Rhipsalis. 
2: Definitely not a wallflower
Walls aren't only for paintings or photos. Take a vertical planter and hang it in a prominent place on the wall. Fill it with your favourite plants and you have a beautiful statement piece that you can decorate the rest of the room around. You can also adapt the colour of the wall to your choice of plants, such as with a contrasting colour, or one of the shades of green of the plants in the planter.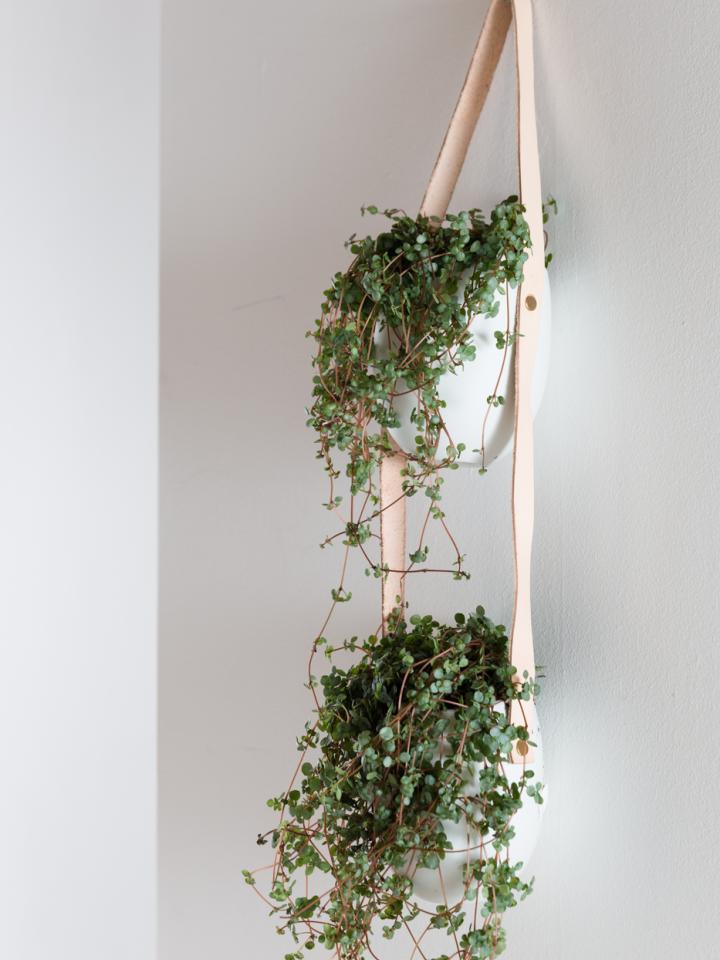 3: Going up in height
Do you want to give your bathroom or kitchen - often the smaller rooms in the house - a facelift? Go even higher by using the ceiling. The room will immediately feel different with a small green oasis above your head. The hanging ficus, pea plant and ivy are suitable for this.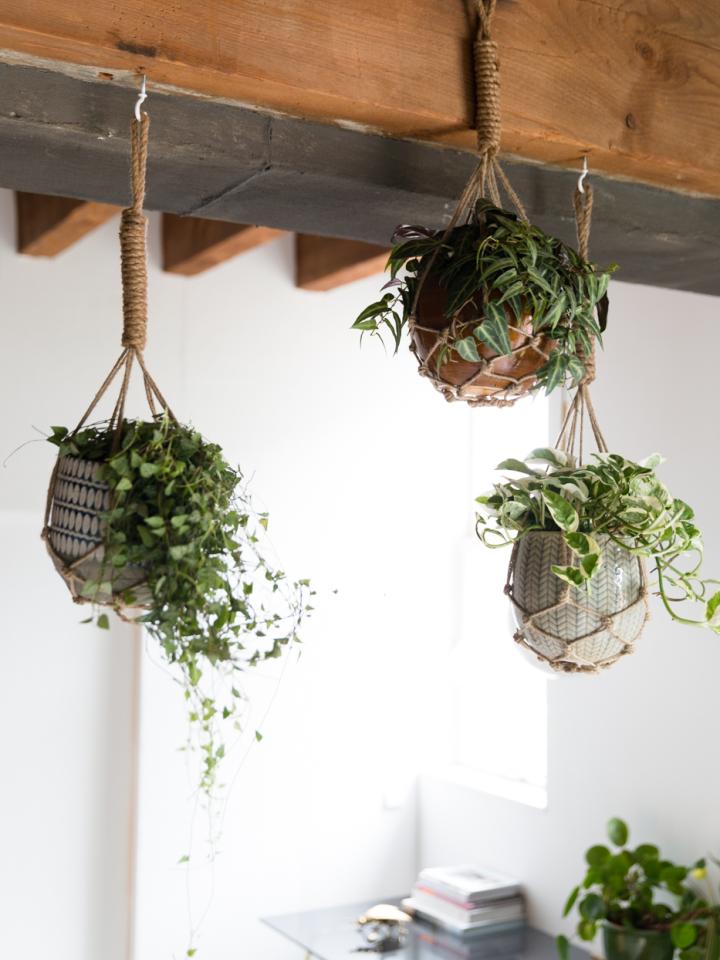 4: Design it yourself
Whatever your desires, there is always an opportunity to give free rein to your creativity. Think about where you would like to give your plants a stage and look for suitable materials. This can be anything, from wire and string to a clothes rack or staircase. Your plants will thank you for such a beautiful spot and you will experience the relaxing effect of all that green surrounding you. 
HOW TO STYLE YOUR PLANTS
Got hold of some nice plants? Now is the time to think about how you are going to style them. We present: four Plant Design styling ideas.
1: Cluster together
Do you usually have your plants scattered around your rooms? Put them together and see how they fit or stand out from each other. The impact of three plants together is much greater than three plants scattered around the room. 
As long as you group plants with the same sunlight requirements together, anything goes. Which plants do you like to together? Which plants fit the room? Follow your instincts. Play with heights and use different - or the same - pots.
2: Recognise colour
The range of colours that plants give us is endless. And by choosing plants of different colours, you create true eye-catchers in your home. Try, for example, the green-red Dracaena Bicolor, the green-pink Polka Dot Begonia or the multi-coloured Aechmea 'Blue Rain'. 
And it doesn't stop there, as you also have to think of suitable pots. You can choose to work with the same pots for each room or use a different pot for each plant. Tip when looking for the ideal pot: take a picture of your plants and go pot hunting with these in hand for guaranteed success.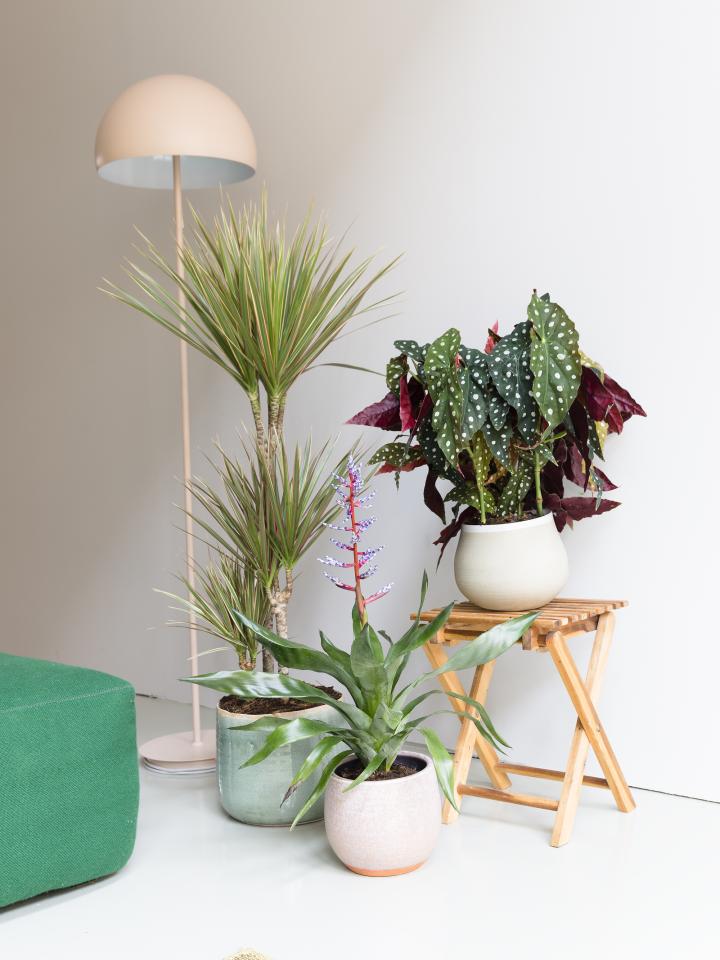 3: Go for form
Another way of turning your plants into true design pieces is to choose plants with striking shapes. There are plenty of plants that more than merit the term 'living design piece'. Put such a plant in a prominent place in your home and let it transform the room single handedly. Think of plants such as Peperomia Happy-Bean, Alocasia amazonica Polly and Alocasia Lauterbachiana.
4: Choose function
Designing your own indoor garden can also be done with functionality in mind. After all, design is not just art and form, it serves a purpose. For example, decorate your home by seeing what effect a plant has on your mood. Choose round, soft shapes in places where you like to relax, such as the bathroom and bedroom. For the study, you can choose plants that tickle the brain: Cactus, Calathea and Aloe. 
more plant design
Can't get enough of Plant Design? Discover more tips and tricks to deal creatively with space and plants, or learn how to turn your home office into a green oasis. Or view the Plant Design dossier for more information and masterclasses from Plant Design experts. Share your greenery with us on Instagram and Facebook with the hashtags #thejoyofplants and #plantdesign?