MEET THE MASTER: PHILIP VAN TRAA
A respected plant designer from Amsterdam
Here at The Joy of Plants, we're proud to present 'Meet The Master': a series of interviews with the experts of our Plant Design Masterclasses. These leaders in their field live and breathe the art of plant design.
Philip van Traa is a green designer and founder of plant design studio Moss Amsterdam. We talked to Philip about the roots of his affection with plants, his ideal plant interior, and how he achieves the "wow factor" with plants in his work.
His grandparents' greenhouse
If you ask Philip where his love of plants comes from, he remembers spending a lot of time as a boy in his grandparents' greenhouse. "They would say, "Go in there and look and feel the plants!"," remembers Philip. "I was captivated." Given this delightfully hands-on origins story, it's no surprise that Philip started his horticultural career as a gardener. Gradually, the work evolved from time spent with his hands in the soil, to time spent planning and concepting green solutions for projects. That work led to the creation of his agency Moss, where Philip works with other companies and architecture practices to design and build green oases for buildings.
24/7 plants
His grandparents' greenhouse might have been the trigger for his career as a gardener, but a love for plants and flowers seems to be part of Philip's DNA, as it flows from his business to his private life. "I am always doing stuff with plants," Philip says. "That's why I always have seeds in my pockets for planting. My daughter and I have furnished the whole of the Amsterdam IJburg district with climbing roses."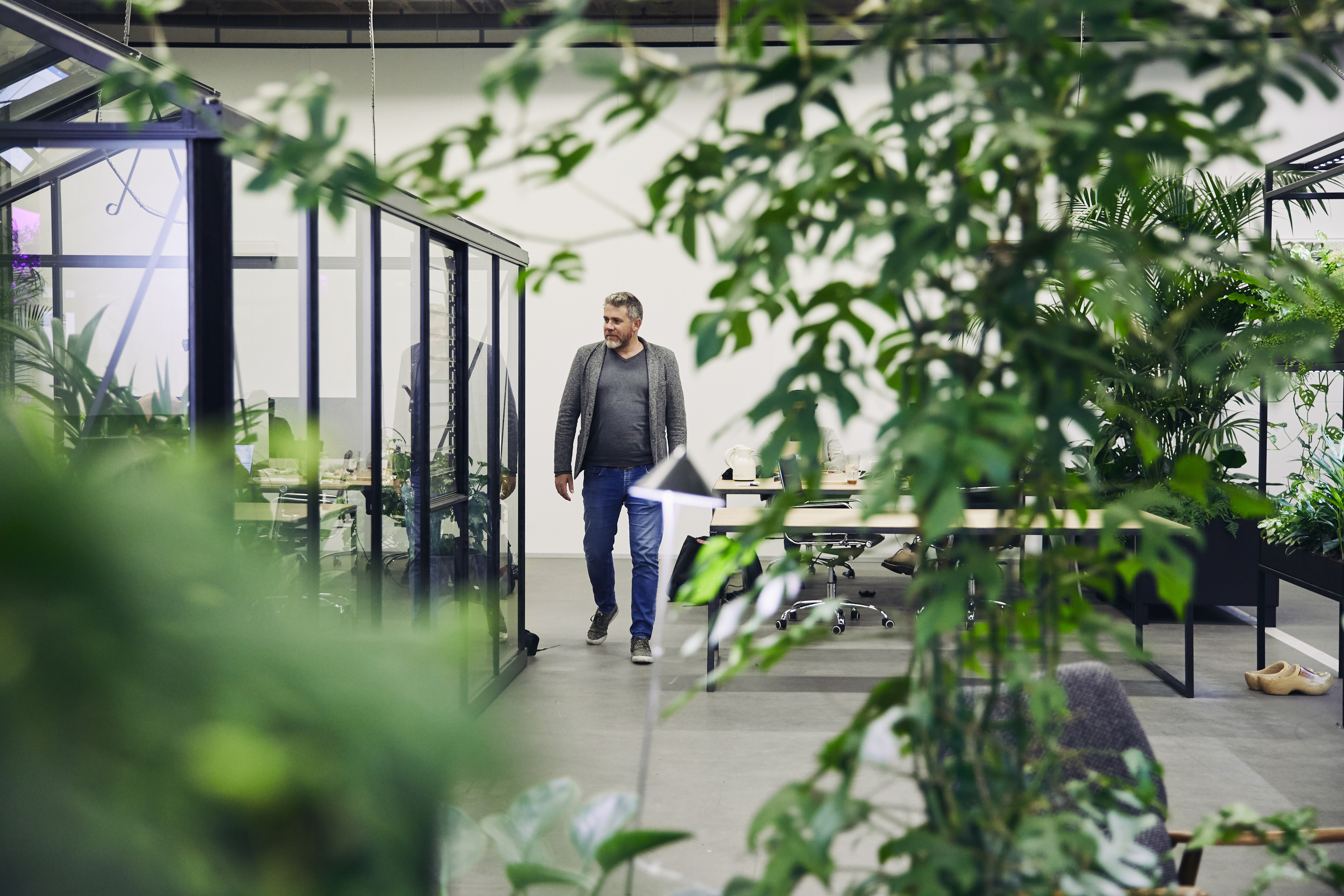 ---
Building the wow factor
Philip gets his inspiration for his plant design solutions from botanical gardens and books. "I have an urge to constantly take in information," he says. The ambition, in all of his work, is to achieve a sense of "wow" with planting. One project that definitely has this is the Biodome in Reykjavik, which Moss is currently completing. For Philip, it was a dream project. "My work is a success if it makes people happy, if people develop a bond with the plants around them and the plants can flourish."
Room to grow
In Philip's ideal interior, his plants would have ample space to flourish. "My dream house would be green, as if it had been entirely taken over by nature. The plants would determine how we design the rest of the space." His commitment to putting plants first is shows Philip's true understanding of plant design.
If you're curious to learn Philip's tips for creating that "wow factor" with plant design, you can watch his masterclass here.
Want to learn more about plant design? Watch the masterclasses about living more creatively and reconnecting with nature.