"Plants have the advantage that you can combine them as you like, whatever your mood and your own taste - there are only a few rules and limits here," says Philip. "Nobody will say that certain plants do not go together at all. That makes the possibilities so limitless and of course it's also fun. "
There are plenty of options if you want to integrate Plant Design in your own home. Find your own wow effect according to your taste. You don't necessarily have to spend a lot of money for that. Philip shares the tricks and tricks of his trade in his masterclass "Creating the Wow Effect".
THE GREENHOUSE OF HIS GRANDPARENTS
If you ask Philip where his love for plants comes from, he remembers his grandparents' tropical house, where he spent a lot of time. "Take a look and feel it, they always said," says Philip. "That was me." No wonder Philip started his green career as a gardener. However, his work gradually developed towards finding green solutions instead of working with his hands in the ground. As a consequence, he founded the Moss company. With Moss, he designs and builds green oases in and on buildings together with other companies and architects.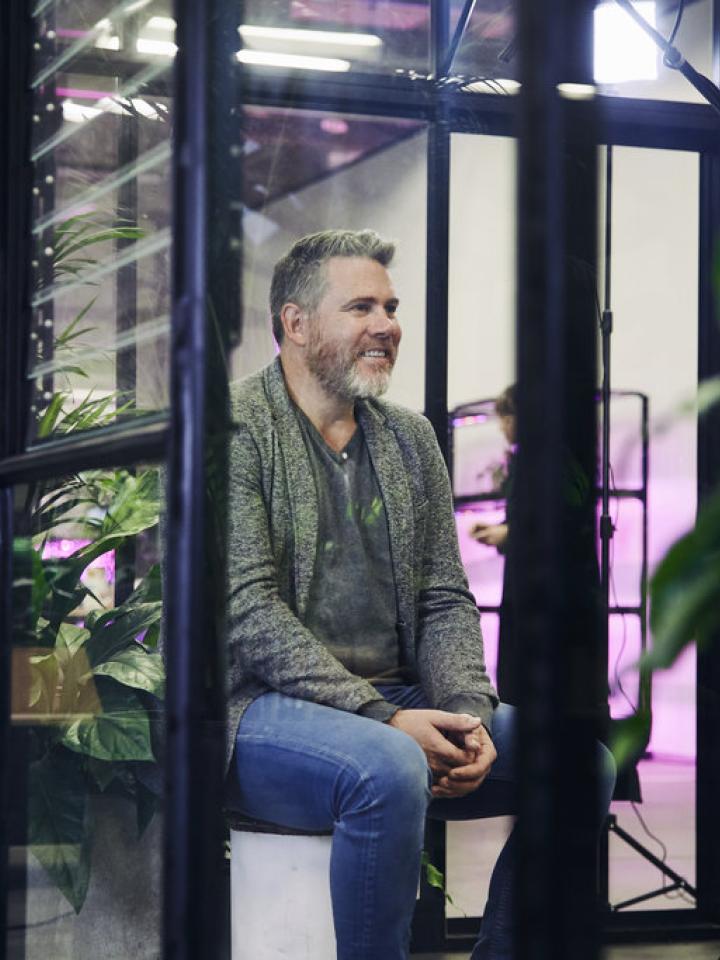 24/7 LIFE WITH PLANTS
His grandparents 'tropical greenhouse may have triggered him to become a gardener, but his love for plants and flowers was already in Philips' DNA. This passion has him under control, both professionally and personally. Philip: "I just HAVE to deal with plants. That's why I always have seeds in my pockets that I can plant. Together with my daughter I spread climbing roses all over Amsterdam IJburg. "
THE WOW EFFECT AS THE ULTIMATE GOAL
Philip takes inspiration from botanical gardens and books. Philip: "I constantly need to absorb new information." Everything to create the wow factor in his work. One project that will definitely have this effect is the Biodome in Reykjavik, on which Moss is still busy building. "A dream project," says Philip. "My work is successful when it makes people happy. When people feel a connection with the plants that are around them and the plants can develop well ".
THE PERFECT ROOM TO GROW AND THROUGH
Philip would also like to give the plants the space for optimal development in his dream house. "My dream house is green...as if it had been conquered by nature and the plants determine how we continue to design the space." Plant design in its purest form!
MORE PLANT DESIGN
To learn about different plant design methods, watch our masterclasses on working with heights, reconnecting with nature, creating the wow factor with plants and making a room of wonder. 
*Please note that this video was recorded before the coronavirus.