Something a bit different: decorate your houseplant
How to hang on to the Christmas spirit for longer
Christmas trees are the divas amongst plants. They allow themselves to be draped with beautiful lights and dressed up with baubles in rich colours, they glitter with tinsel and - if they're really lucky - they're given a coating of artificial snow. Fabulously overdressed? We don't think so!
All that kitsch gives your living room a makeover and therefore it suddenly feels very empty after Christmas. Take the sting out of the transition by giving your new houseplant some extra swag with these 3 ideas: . 
Don't put the fairy lights away yet
A houseplant with a sturdy trunk like the Yucca looks great with some lighting. In fact, it puts the plant in a whole different light (excuse the pun!).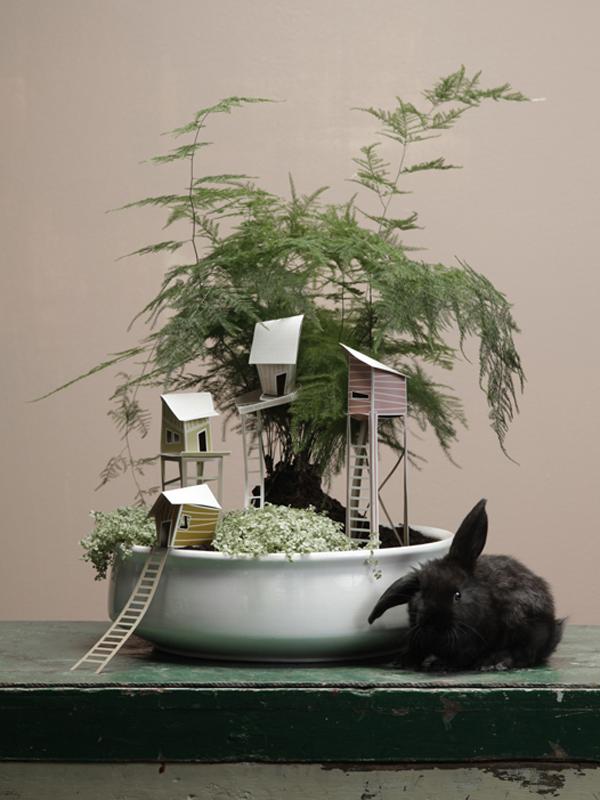 Lisa Klappe
Turn your plant into a mini village
Forget the Nativity scene: a Cottage Town is just what you need to lend a little more allure to your houseplant. The miniature tree houses and cottages transform your plant into a settlement -now you just need to wait for the pixies to move in.
Unusual pot sleeve
The Christmas tree stood in a large bucket full of sand you collected from the playground round the corner. To smarten it up a bit you managed to make it look more special by using a roll of wrapping paper. Why not carry on this trend for your houseplant? An unusual pot sleeve turns a dull plant into a fashionable feature. Obviously you could reach for the wrapping paper again, but try looking in the cupboard for some attractive fabric. Got a taste for it? Paint the pot with blackboard paint and use chalk to really express yourself.