Save Christmas (part 1)
Botanical ornaments for the Christmas tree
Do you remember the fantastic blue spruce that you had last year? Or the cute little Christmas tree of the year before? No two Christmas trees are the same, and without some nice photos we soon forget what our dapper green friends looked like. So save a little piece of your Christmas tree every year, and hang it in your next tree. Over the years you will build up a fantastic collection of botanical ornaments, which is handy, since plenty of baubles will get broken over the years. 
You will need:
Sprigs from your Christmas tree
Beautiful black ribbon
Glass baubles
Black spray paint
Punch stamps for metal with numbers
Brass metal hanger
Black string
Hammer
Masking tape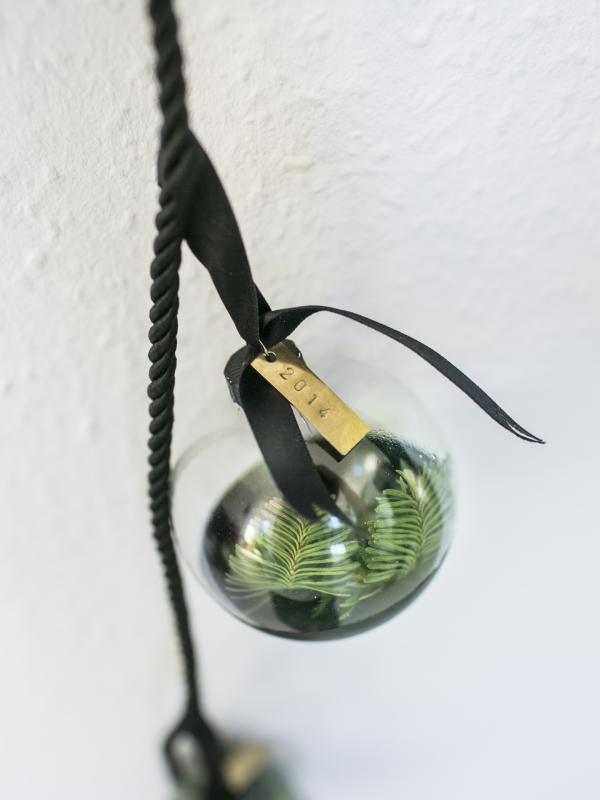 Get to work
Stick masking tape on the glass baubles at the required height. Below the masking tape spray part of the ornament black with the spray paint. It's a good idea to use elastic masking tape, because it's flexible and is therefore easier to use on round objects such as baubles. Go outside and spray-paint the bottom of the bauble. Follow the instructions on the spray paint carefully and take account of the wind direction whilst spraying. Then leave the baubles to dry. Meanwhile use the hammer and the punch stamps to punch the year into the brass plate. Place the sprig in the bauble and tie a ribbon through the loop. Then suspended from the string or in the Christmas tree. 
Enjoy your new tradition!