The jungalow style suggests that you can only reach your kitchen from the living room with the aid of a machete. Of course you can do it that way, but the latest version of 'the tropics in your home' is slightly more streamlined. Bromeliads are ideal elements, with cheerful colours and fabulous shapes that definitely have the Exotic Factor. But you don't need to cover an entire wall with them - nowadays it's more about jungle accents. Like in this room divider: by removing a shelf here and there your Bromeliads have space and you still have the junglalow effect, but lighter and more transparent. Here are some more examples of manageable Bromeliad-style jungle as inspiration. 
Tillandsia wallpaper 
A single element - sofa, tapestry, wallpaper - featuring Bromeliads can make a colourful statement on its own. You don't really need anything else, although an attractive Vriesea or Guzmania often provides a marvellous finishing touch.  
Copyright: Lauren O'Kelley / Utelier
Everything under control 
A Bromeliad in a frame makes optimum use of the remarkable characteristics of these unique plants, which don't necessarily need any soil. Treat them with the plant spray from time to time and they'll keep on going. Tillandsia has a lot of impact this way without becoming overwhelming.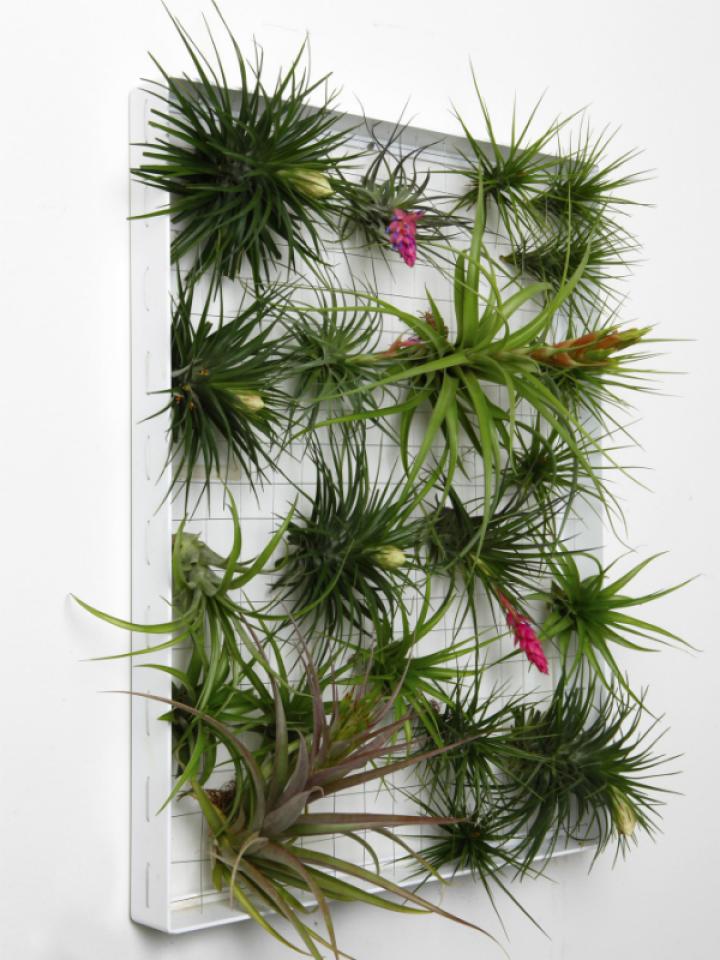 Guzmania lamp
This lamp is in the shape of a Guzmania: glass bracts, metal leaves with a bronze finish, solar-powered. It's mainly intended for the garden, but if you let the screen charge thoroughly in daylight (e.g. on the windowsill) you can also use it indoors. It looks very comical between a couple of real Bromeliads and also fits well with the trend that all materials are equal.