Be the plant
When our thoughts start spiralling, it can trigger worry and anxiety among the best of us. When this happens, it's handy to have a plant in our eyeline to bring us back to the present and centre our thoughts. Plants live in a state of constant presence, leaning towards the light, photosynthesising, and growing either rapidly or slowly following their natural tendancies. "What would the plant do?" we can ask ourselves, when we feel our brains becoming oversaturated with information. The answer is right there: plants remain calm, present and focussed on the situation at hand. We can learn a lot from their attitudes.
Cultivate effortlessness, effortlessly
When choosing a houseplant, it's of course important to take into account the environment it will be living in: is it sunny, or shady? Warm or cold? Is the air humid or dry? Is the space large enough for a tree, or would a small succulent suit it better? Yet plantfulness also encourages us to think about our own habits, and lean into them. Are you a giver, and will you over-water? Then a bamboo plant would be an excellent choice. For those of us who are busy and often away from home, it's wise to choose a hardy plant like a sansevieria or cactus. If you know you are good at building a routine, you'll find plants like the banana tree or fiddle leaf fig that require routine maintenance extremely rewarding. With plantfulness, we give ourselves permission to lean into our core tendancies, and celebrate ourselves.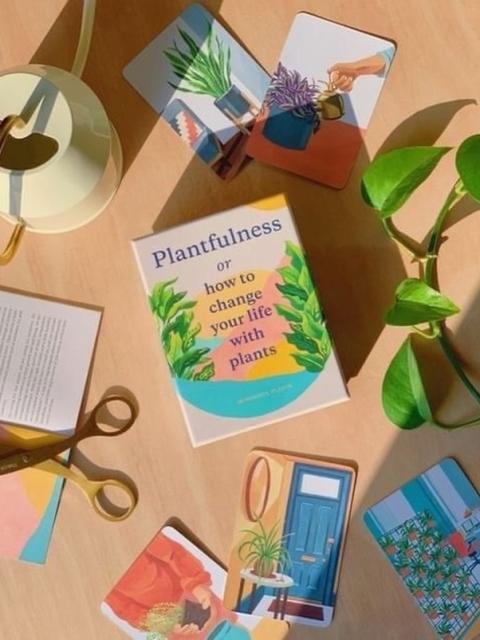 Learn all about Plantfulness
If you're interested in discovering more about the wonderful world of plants and mindfulness, then check out the guide "Plantfulness" by Laurence King Publishing. It features 50 illustrated cards to guide you through the care for some of the most rewarding houseplants, plus a guide to Plantfulness by New York-based clinical psychologist Dr Jonathan Kaplan. We ran a giveaway over on our Instagram and Facebook pages, but if you missed out, the cards are of course available to buy from bookshops and online.