Use different full-bodied plants
One quick way to improve your outside space is to plant a tree, but this approach won't work with a balcony, roof terrace, or sunken patio where leaves and branches may block out the light. Another, much more versatile solution is to group together several medium-sized plants, each with a full-bodied, flowing appearance, like clematis, Japanese maple and climbing nightshade. Mix evergreen garden plants like silvergrass with flowering plants of similar colours — Campanula, lobelia and scented lavender — so there's always something going on outdoors.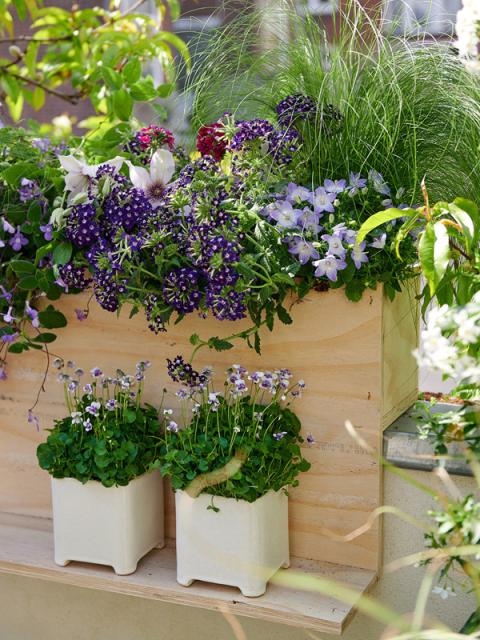 Up in the air
A limited floor area challenges you to be a bit creative. Make the most of the edges of your balcony by hanging window boxes, or create a fitted planter with an extra shelf attached, giving you much more space to display plants. Pergolas, garden tables, ladders and walls are also ideal spots for hanging baskets and containers. By placing plants at various heights you can create a peaceful, leafy wall of green.
---
Choose garden furniture with inspired design
Be smart about space when it comes to garden furniture. For small spaces it's best to choose a foldaway chair and table, rather than more cumbersome fixed furniture. One exellent idea from designer Jair Straschnow is the 'tablebench' — a seat and table combined. With its modest dimensions and slender legs, it creates a feeling of spaciousness, and it also leaves room for a couple of large pots of daisies.