Pink planting
Fill your pot plants with pink flowers to give your garden or patio a quick summer update. In the planters that you can see in the photos above, Alstroemeria makes for a contented bedfellow with trailing petunia 'Baby white", nasturtium and Diascia 'Fly Colors Upright Apricot', also known as twinspur. By companion planting in various pink hues, we created a relaxed, un-fussy feeling of softness and romance.
Another approach is to create a green bower, where each pink plant is afforded its own pot for individual splendour. We placed them on a raised shelf so that they can be admired during our pastel pink garden party. From left to right, we arranged Campanula 'Sweet MEE Rose', ginko tree, Gerbera 'Gravinea Sweet Memories', a tall fuchsia, violet cosmos, Rhodohypoxis Baurii or red star, Rose 'Classic Select' and climbing hydrangea 'Anomala Petiolaris'. In the foreground you can see Mandevilla 'Sundaville Cream Pink'. Follow our lead or mix and match your favourites to create your own world of pink outdoors.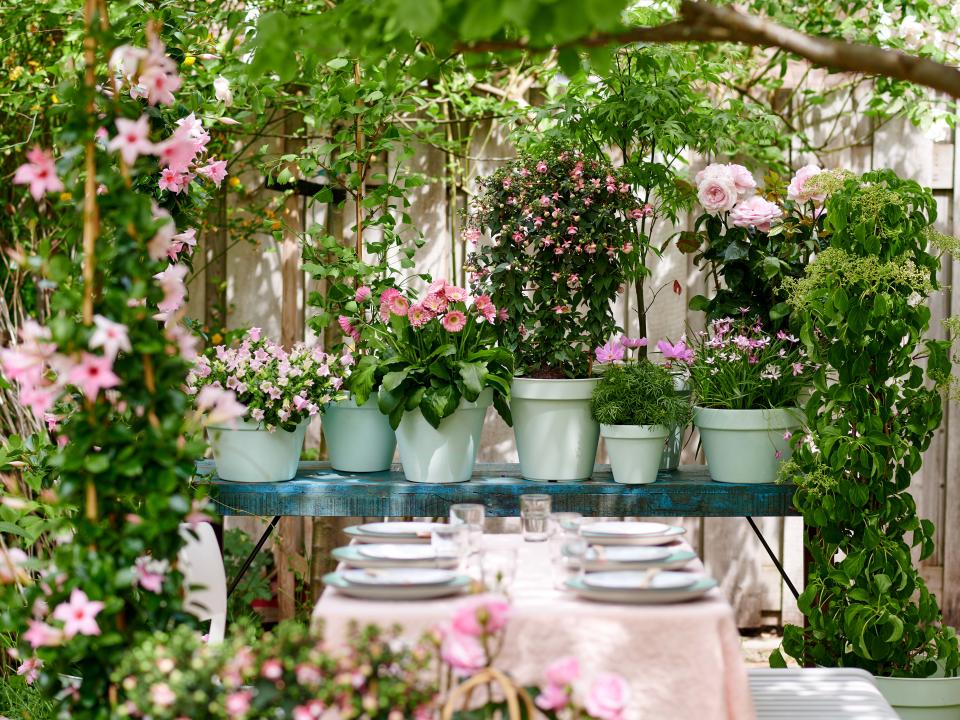 ---
Fuchsia, rose and mandevilla are three of the best soft pink plants for your garden. They work brilliantly in pots, and look gorgeous as feature plants.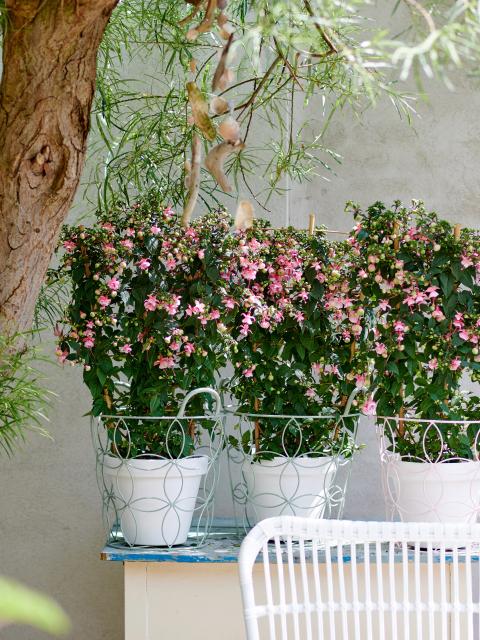 Fuchsia
This two-tone flower comes in endless varities of white, pink, red a purple. We've chosen a soft pastel shade to complement our millennial pink planting scheme. The plant is easy to grow, and a hardy perennial version requires very little maintenance. There's no need for deadheading either: the spent flowers drop to the ground as sweetly pink summer confetti, leaving berries in their wake.
---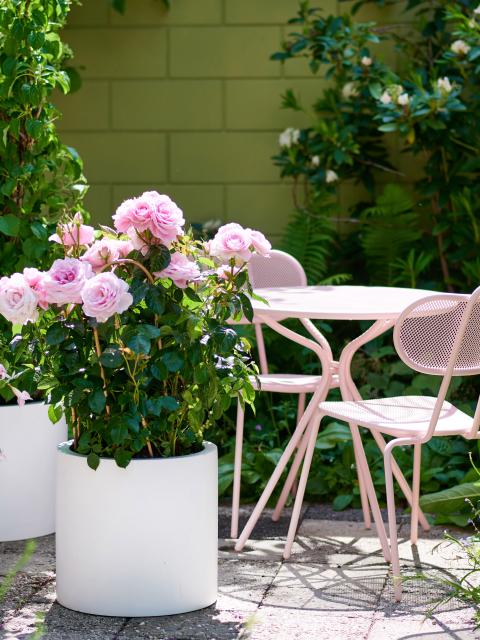 Rose
Rose is the flower of romance, and this soft pink variety has all the fun and frivolity of a summer fling. These "Classic Select" roses are strong and sturdy hybrid plants that are more than happy being in pots. If you deadhead when the flowers go over, you will encourage the plant to produce more buds. With luck, the romance will last all summer long.
---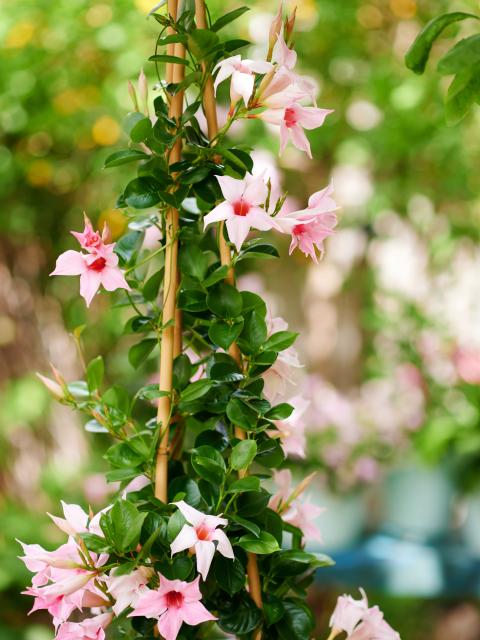 Mandevilla
The trumpet-shaped flowers of Mandevilla 'Sundaville Cream Pink' call for strawberries and cream, Eton mess, and summer fruit pavlovas. Another low-maintenance plant, this ornamental climber flowers from May through to September, bringing a tropical feel to your summer garden. Construct a free-standing trellis for the plant to climb up, with three canes tied together, or opt for a more compact variety if you're short on space.
---
Paint the wall pink
For an extra bit of zing, turn up the volume with a feature wall. For around a decade now, the #plantsonpink hashtag has trended on Instagram, and with good reason. There's nothing like a pink feature wall to bring the greenery of your plants to life. Opt for bright pink or pastel, to complement your planting scheme.
Bring the pinks indoors
If you're pleased with your outdoor planting update, then have a look at these pink houseplants. Plants like Ficus 'Belize' and Cordyline 'Mambo', with their tropical names, will bring a summer holiday feeling into your home.