Style trend: Rebel
Style trend: Rebel
Rebel is one of the four style trends for 2017, and pokes fun at 'the done thing'. It offers you a release valve to create a party with your plants where everything is allowed and nothing is compulsory.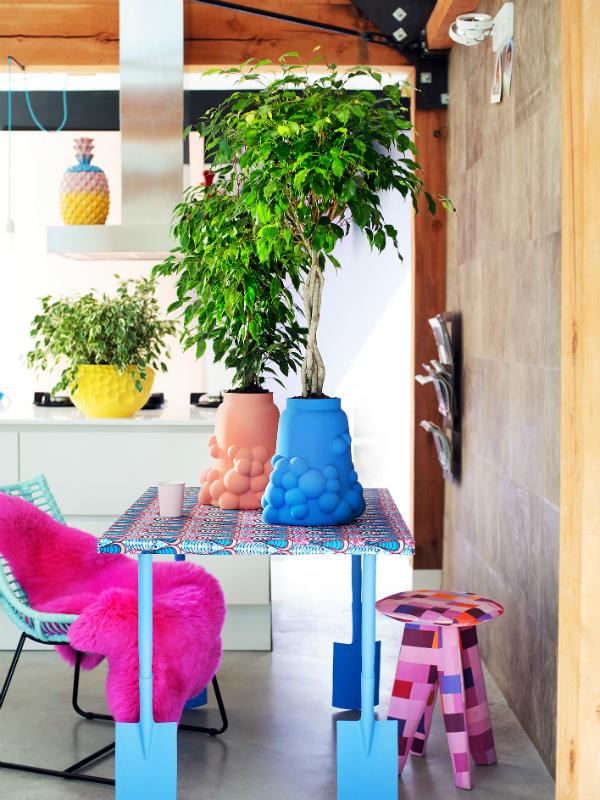 Sometimes you don't want to make sensible and responsible choices, because you've fallen head over heels for a bright orange chair, a mad vase with a fringe or an exceptionally impractical but ever so attractive pot. Just do it! The only rule is that there are no rules and that it makes you happy. Embrace your frivolous side (and that of your plants) and give your creativity and humour free rein. 
Plants with strong shapes such as Ficus, Kalanchoe and Cyclamen are essential for achieving cheerful rebellious effects. Play with unexpected sizes (mini-Ficus, Maxi-Kalanchoe) and visual jokes with plants. There's no reason for not combining brilliant colours of small cactuses and Cyclamen in a bowl, and why not hang artificial flowers in your plants.  
Execution 
Think of unusual materials and unexpected combinations. Natural products are less effective with this style: plastic in comical shapes is ideal. Use exotic and abstract patterns, try seeing Kalanchoe as a kitchen princess and Ficus as an indoor tree. 
Rebel colours and patterns
Primary colours combined with bright and soft pastels make up the cacophony of Rebel, in which neutral shades are marked by their absence. Everything can be combined, and that gaudy overload also applies to the patterns. Abstract, figurative and exotic patterns set the tone, whereby handcrafted elements such as embroidery, weaving, macramé and pompons are particularly prevalent.