Spring trend: the garden that embraces you
Use plants to create unity with natural nonchalance
Circular shapes which are linked together by whimsical plants in their natural form: that's the story of the garden where everything has a place, including attractive weeds. 
'Round like a circle in a spiral, like a wheel within a wheel' is the inspiration for this style trend, which has a wealth of things to discover in the form of flowers, bees and other flora and fauna. They all live in harmony with one another, in circles that merge. That creates a garden with wide variety of flowers and plants where attractive weeds can join in too. In order to still maintain unity, use plants that look similar, such as anemone and ranunculus. You can also use the flowering as the common factor: petunia and mini-petunia then go together well. Another successful duo are common juniper and blue conifer. If you maintain that consistency, it creates an attractive harmonious display which is both modern and bit different. 
Natural look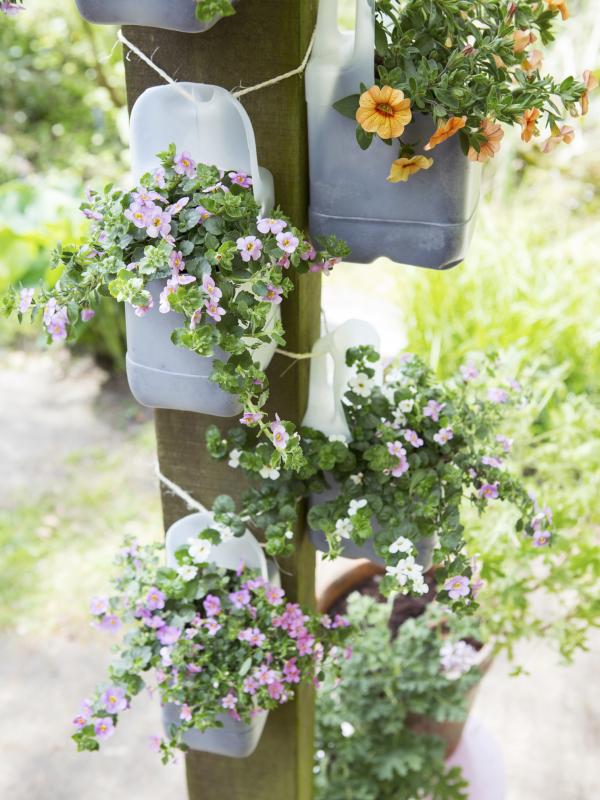 The coherence is echoed in circular shapes which reinforce one another: think of a round table bearing a round bowl filled with hyacinths, or a round pot containing eucalyptus of which the silver-grey round leaves are reminiscent of the circular pond behind it, or the round fruit on lemon trees on the patio. You can use upcycling to reinforce the eco-element of this style trend: a row of daisies in cans or pots made of recycled plastic with a wicker core. The height of cool is probably accessories with patterns of water rings or splashes, or round natural shapes such as nests and spider webs. 
Colours full of warm 
White and green play the main role, supplemented with reddish brown nuances such as terracotta and marsala. Combined together they create a southern mood, a garden with plenty of sun with the occasional refreshing shower. As an ensemble they have a natural look and help all the elements to find their own place. If you combine colours together within this collage, harmony will arise naturally. Below is our handy colour chart with all the Pantone reference numbers you will need to achieve this style in your garden. You can have your colours easily mixed at your nearest DIY or paint shop with these colour codes!