DIY tip: A home for your Hyacinth
A festive home for this scented houseplant
A feast for your nose and eyes: It's hardly surprising that the Hyacinth is the Houseplant for the month of December. To give this feast a nice location, build a home for your Hyacinth. It's not only fun to make for yourself, it's also a great gift idea! We will explain how to build this house in three steps.
This is what you'll need:  
A Hyacinth in a copper pot

Cardboard box

White emulsion paint

Sheet of copper foil (for sale in art shops)

Glue spray

Brush

Ruler

Stanley knife

Paper sticking tape

Sponge to wet the glue on the sticking tape

Scissors
This is how you make it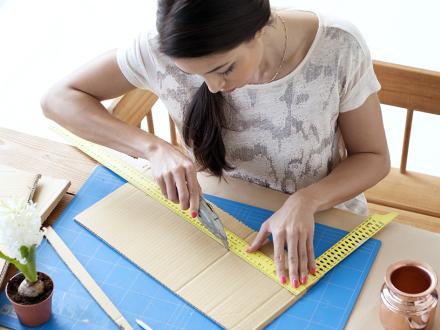 Step 1
We start with the cardboard. With the ruler, cut the cardboard into the shape of the back wall of a house. Cut two pieces for the sides, two pieces for the roof and cut the base of the house twice. In one of the bases cut a hole to fit the pot exactly.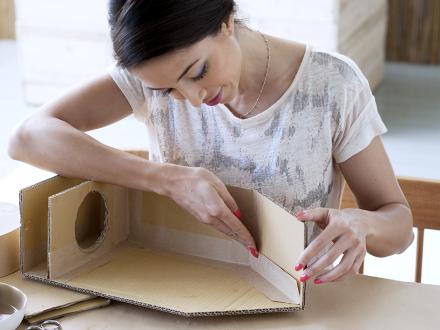 Step 2
Stick all the cardboard pieces together with the paper tape. Use a sponge to dampen the glue on the tape, this will help you avoid a dry mouth and rough tongue.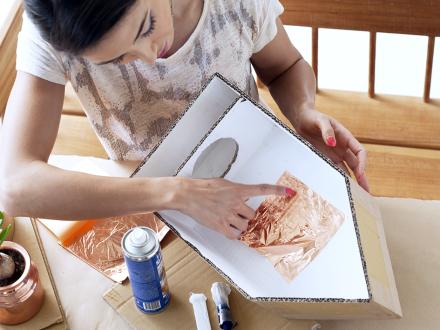 Step 3
Paint the inside of the house with the emulsion paint. Work out the height of the house where the flowers of your Hyacinth will begin to show, stick the copper foil with the glue spray at this height. Let everything dry, place the Hyacinth with the pot in the house and you are ready for a party.