Hyacinth in a black and white jacket
It's almost too good to give away, this hyacinth gift
When it's cold and dark outside you can give someone some light and the smell of spring with a hyacinth. Just pop it in a black and white jacket to produce an unusual gift.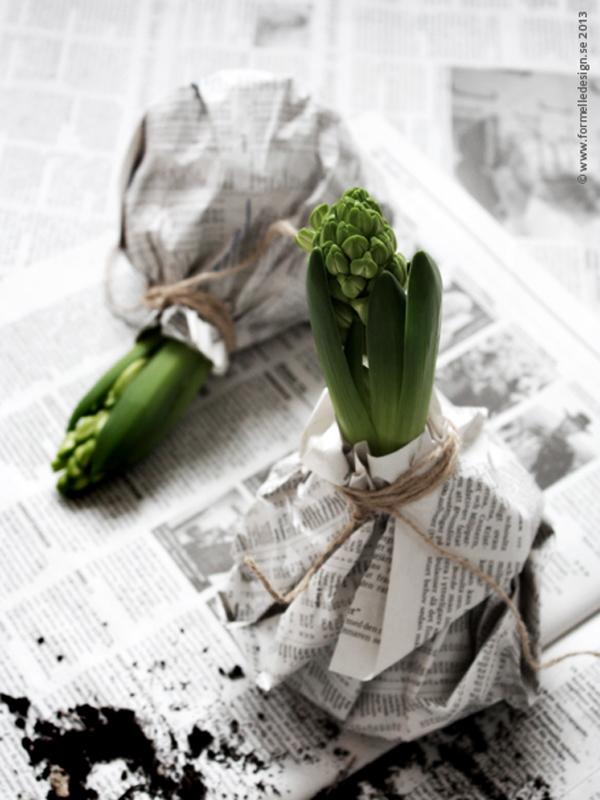 Hyacinths in the paper
"Why didn't I think of that?" A question that springs to mind from time to time when you leaf through a home or fashion magazine or seek inspiration online. Thejoyofplants had that thought when we saw these hyacinths wrapped in newspaper. An idea from Sweden's Johanna Eklöf, the blogger behind Formelle Design.
Black and white versus green 
The newspaper and the coarse string make the hyacinth look wonderfully hip and the green of the houseplant even greener. Just wrap the paper around the bulb, tie it up and you have a scented gift which is a million miles away from the bling that seems to accompany the holidays. And after all, you've always got an old newspaper and a piece of string somewhere around the house, don't you?
Give them care tips for the hyacinth 
If you would like to tell the happy recipient how to pamper their hyacinth, point them in the direction of the Hyacinth dossier for care tips, or even better, write them down on a little tag you can tie around the stem.