A festive Chrysanthemum in your hand
Make an impact with this gorgeous clutch
Away with that huge bag in which you can never find anything in anyway!  This elegant Chrysanthemum clutch will complete any party outfit.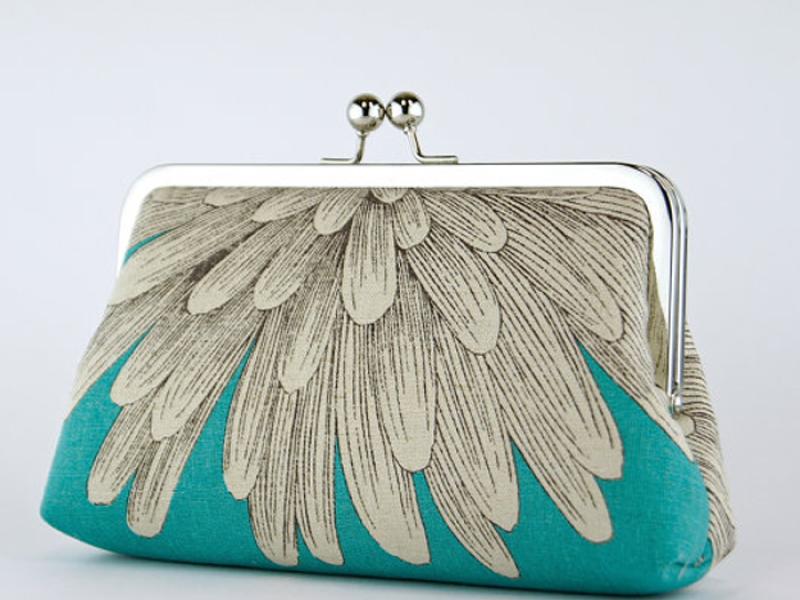 Clutch full of Chrysanthemum goodness
This season's party accessory trend is the clutch again, hurrah!  It's practical and the perfect size so you can fit everything you need into it.  It also rules out carrying the heavy weight of a large shoulder bag and trying to find your stuff in the dark depths of your bag. And since we love Chrysanthemums, we found the perfect clutch. 
With this Chrysanthemum print, it creates a subtle colour accent and there is more than enough room for your purse, keys, telephone and lipstick. That's all you need!
Lovely by Etsy
This original clutch bag is hand-made, with a silver or gold coloured clasp and even a chain if you want. The lineing is silk and it's lovely and soft.  Ellen, who makes the bags, offers a range of colours including turquoise, yellow, black, off white, olive green and red. Want one? You can order the clutch bag on Etsy in the EllenVintage shop.
Want to know more about the Potted Chrysanthemum?
Do you want to know more about the Potted Chrysanthemum? You will find more information in our Plant Guide.