DIY: Rosemary candle
For someone very special…
What is romance? A candle-lit dinner. A bunch of roses. Being serenaded under your bedroom window. Or is it simpler than that? Is it letting another person know you're thinking of them or doing something nice for them? Combine the best of both worlds and make a fantastic flower candle! If you like, you can always supplement it with a beautiful bouquet of roses.
Shopping list for the flower candle
Candle wax
Essential oil with your choice of fragrance
Rosemary
Wick (sometimes supplied with the candle wax)
A glass jar or container
A pan
An empty tin
String
A small card
Get to work
Melt the wax as follows: fill a pan with 5 centimetres of water and place an empty tin in it. Place the amount of wax you need in the tin. Turn up to a medium heat and wait until the wax has completely melted. Optional: Use a couple of drops of essential oil to add delectable fragrances.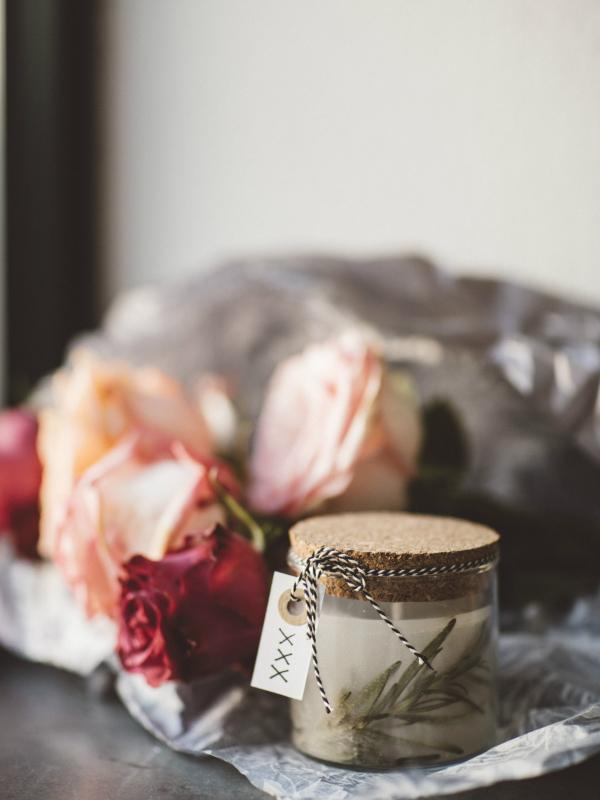 Place the wick in the centre of the glass pot (ensure that the wick touches the bottom*) and wrap it around a pencil or twig to keep the wick in place. If necessary use a drop of molten wax or a coin to wait the wick. 
Distribute the rosemary in the jar. Then carefully pour the modern works into the jar and leave to cool. Trim the wick to the required length.
Now all you need to do is write a nice message on the card! 
---
*To avoid fire risk, make sure that the candle does not burn too far down. Never leave burning candles unattended.