Create a 12 Days of Christmas garland
Green love to carry you through the dark days of winter
We have a fun - you might even say adorable - craft project for you. Yes, we know you've got plenty to do in the days running up to Christmas. But this garland both retains that festive feeling once the festivities are over, and also gives your love life a boost. Surely that's worth the effort?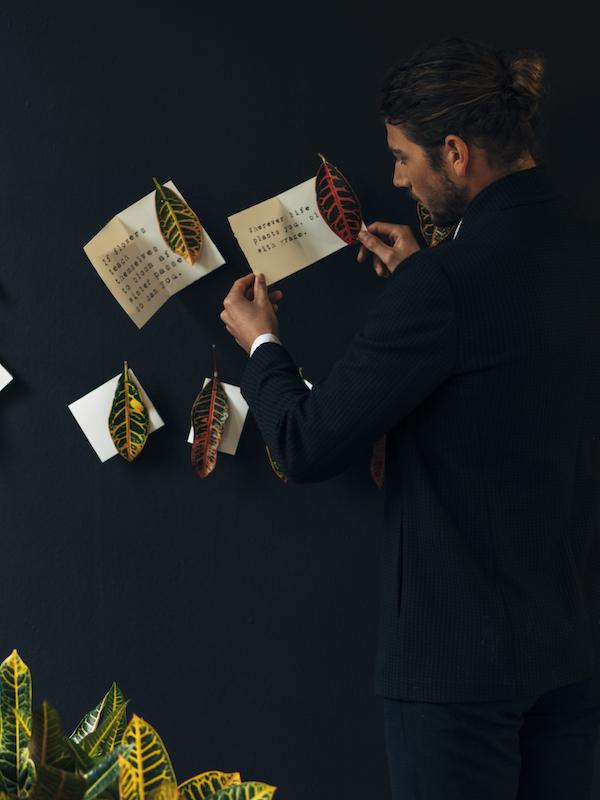 Making Christmas last
You probably know about the Twelve Days of Christmas, when we 'extend' Christmas from Boxing Day (26 December) through to Twelfth Night (6 January). It's a time for contemplation before daily life resumes with its full force. Utterly stylishly we're going to create a garland with twelve leaves, and attach 12 love notes to it. Type them on a typewriter, fold them, hang up the garland, and surprise your beloved every day with a lovely message.
Give this chain your own twist
Will you opt for twelve fabulous special plant leaves on their own, or will you alternate between flowers and plants? Your chosen plant might be a nice reference to the writer or recipient of the note. There are no rules - just follow your own taste, because the garland will naturally be displayed in a place of honour in your home. Go big with a monstera or banana leaf, or keep it modest with a fern or sprig of spruce (sorry Christmas tree!). Flowers that are particularly beautiful and lavish at this time of year are the rose, amaryllis and orchid. 
Sweet words 
You'll probably be putting on a few pounds over Christmas anyway, so replace the sweet advent chocolates with sweet words. Use Pinterest as a source of inspiration, or release your inner poet to come up with small texts, quotes or notions. Don't struggle over it too much - something like 'Every day is better with you' is all that's required. Thought of your texts? Good! Bring them to life with the aid of an old typewriter an attractive paper. 
Temporary art
You can hang up the leaves together with the folded love notes on a bit of fishing line with mini clothes pegs. Open one every morning. Read, admire, sniff, and hang them back up with a smile. You'll soon create a temporary work of art. Green love on the wall - that'll brighten anyone's day!