Bye Mistletoe, hello succulent
How often will you be standing under the Succulent this Christmas?
If you send Christmas cards you have plenty of choice: cards with snowy landscapes, lovely decorated Christmas trees or angels in soft candlelight. Do you fancy trying something new this Christmas? Then the Nightly Doodles Christmas card is for you.
Kiss me under the Succulent
Designer Jenipher Lyn of Nightly Doodles (New York City) has an obsession with succulents, a good dose of humour and loads of graphical talent. These qualities have enabled her to create a fun Christmas card, perfect to raise a smile and a kiss from your friends and family.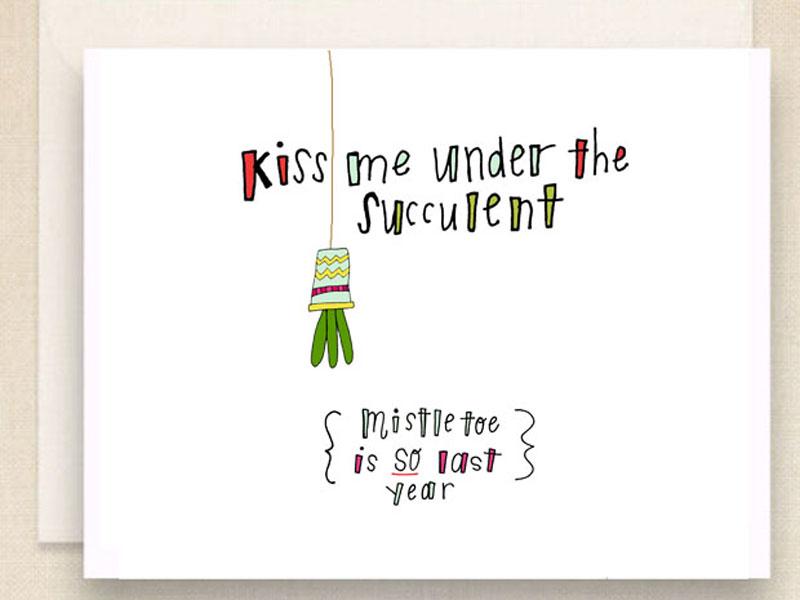 Handmade Christmas card
Jenipher has drawn the card by hand, has had it printed on good quality card and has left the inside clear, so that you can add your own handwritten, personal message. If you want to enjoy this illustration all year round, frame it and hang it on the wall. Want to bet you will get lots of kisses?
Where can you buy the Nightly Doodles Christmas card?
Jenipher sells her Christmas card via Etsy.com. You will also find lots of other lovely cards designed by her, on this site. She sends her cards all over the world together with a white envelope and in cellophane so that the cards stay protected. Want one? Go to Nightly Doodles on Etsy.com.
Photo credit: Nightly Doodles