Trend: floral fashion in the garden
A summer feeling all day long
Ideally you want to hang on to that summer feeling for as long as possible, particularly if you're slogging away in an office. This spring we saw many botanical influences during the fashion shows. Luckily this cheerful trend is not confined to the catwalk, and is already widely available pret à porter. Take the garden with you as a fashionable outfit!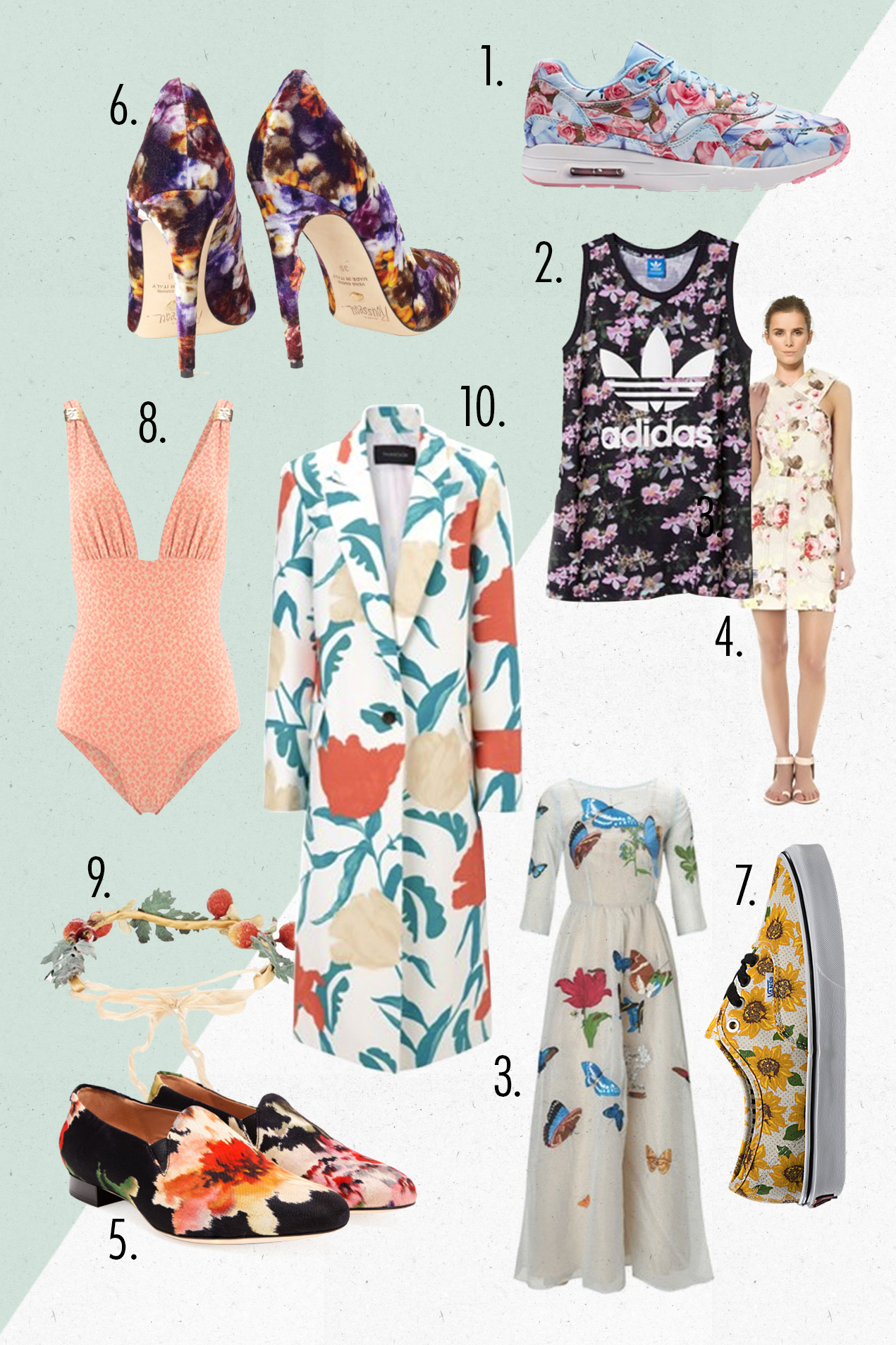 Sporty
Sports brands Nike (1) and Adidas (2) have both released a 'floral' collection in the past year. Sports clothing, shoes and accessories are all available in these tough, fresh floral prints. 
Sweeping dresses
Butterflies in the garden make everyone happy. Vivetta have managed to capture that feeling in their 'blue embroidered butterfly dress' (3). Or opt for the lovely summer dress from Carven (4), a great outfit for a convivial evening dining in the garden with friends. 
Flowery feet
There's something to suit every taste: slip-ons from Acne (5) (Noa Floral Print Smoking Slippers), some fabulous pumps by Jerome C. Rousseau Floral (6) (Floral Velvet Flicker Pumps) or comfortable sunflower sneakers from Vans (7). Alternatively you could just enjoy the grass between your toes  with bare feet!
Finishing touches
Is there anything better than reading a book in the sunshine in your own garden or on the balcony? Time to work on that tan. Coordinate with the fabulous display around you with a bikini or bathing suit with delicate floral tones (8). You can create a hippie mood with a fabulous headband that references soft fruit (9). But watch out, the weather can change very suddenly in summer. Play it safe and wrap yourself in a beautiful floral coat from Thakoon (10).
It's hard to choose with so many lovely items on offer. Which outfit will you pick to enjoy the plant paradise in your garden?