Plants in pastel Easter colours
Have a colourful, plant-filled celebration
Create an Easter tableau with an assortment of pale pinks, delicate yellows, powder blues and peaches, all set against a white background. The effect is reminiscent of a beautiful, natural watercolour.
It's allowed again: line everything up!
Easter colours are pastel: ice blue, powder orange and pale pink. The colours burst forth from flower pots, as planted bulbs grow and bloom in the fresh spring sunlight. Muscari, crocuses and hyacinths capture the colours of spring perfectly. When the bulbs are finished flowering, you can plant them in the garden, ready to bloom again next spring.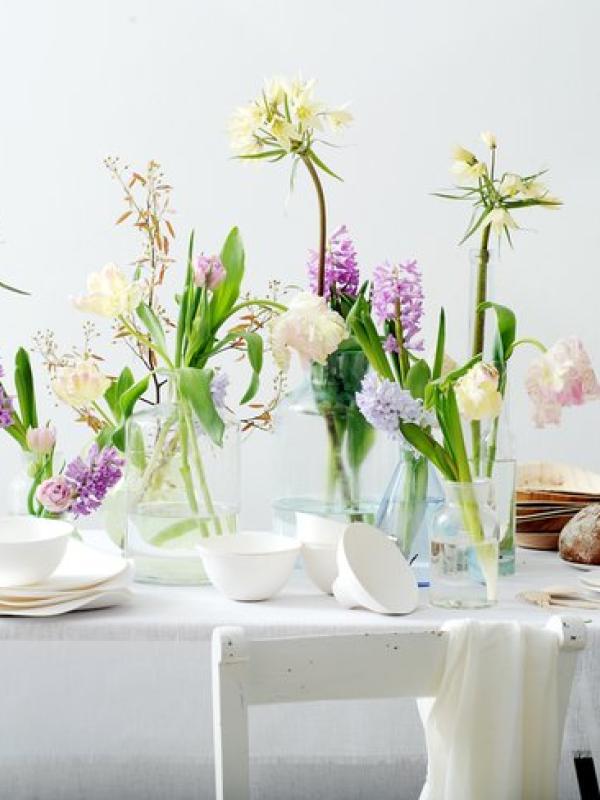 Upgrade your Easter dining table
Delicate, fresh and with no chicks in sight, turn your Easter table into a hymn to the pastels of spring with transparent glassware.
Loosely divide soft spring flowers like parrot tulips, hyacinths and nerines between different vases, and add grasses and foliage to complete the arrangement. The effect will be natural and delightful.
---

Add a large branch of blossom 
Pussy willow branches are traditionally linked with Easter in some parts of Europe — but a sprig of blossom is perhaps even more defiantly springlike.
A robust flowering branch of plum, cherry or magnolia creates both an impressive floral statement and a stunning indoor tree, which will last for a very long time. 
To make it feel especially Eastery, hang it with eggs decorated with plants.