DIT HEB JE NODIG
YOU WILL NEED
Choose your favorite plant(s). Most plants are suitable for this hanging decoration, as long as they aren't too big. We opted for grape hyacinths and Eranthis hyemalis (winter aconite). A kokedama with your favorite cuttings is also possible.
Platmos (for sale online, for example at a garden center)
Potting soil
Nylon thread
Strong rope
Scissors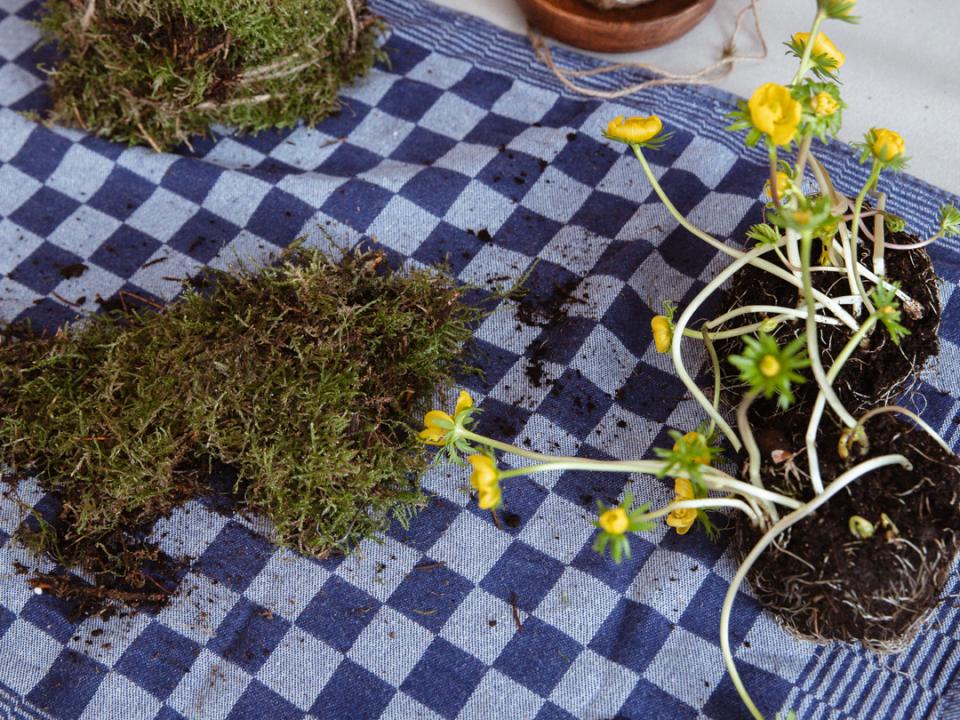 TO WORK
1. Place the piece of flat moss ready on the table, with the green side up.
2. Remove the plants from their pots and gently knock off the loose soil to form a solid base.
3. If necessary, add some soil around the root ball for a nice round bulb. You can wet the soil a bit so that it sticks better.
4. Tie a piece of moss onto the root ball by wrapping wire around it in all directions. In this way, add a piece of moss each time, until the whole root ball is covered and a nice round sphere has been formed.
5. Use the nylon thread to seal the moss ball. Wrap the nylon around the ball a few more times for reinforcement.
6. Use the rope to hang the Kokedama. You can turn the rope around the sphere once, but also a few times around for a more playful effect.
7. Spray your floating plant(s) regularly with the plant sprayer bottle and enjoy your Kokedama this spring!
Tip: instead of plants with root balls, you can also stick cuttings into the moss bulb. In this case, first make the sphere of soil and moss and then poke holes into it, and then you carefully insert the cuttings.
We would love to see your Kokedama creation. Share it with us via
Instagram
or
Facebook
with the hashtag #thejoyofplants. Click here for more examples and information about the Kokedama. Or get inspired by our
Easter board on Pinterest
!