Oriental source of joy 
Easy to live with, beautiful to look at and a plant with a story: Aglaonema. This feng shui (energy in the home) favourite has been cultivated for centuries in Asia as a happiness plant, and is particularly popular in China. The red in the leaf symbolises a home that's never cold and chilly, the silver fends off poverty and the  spots, stripes and splashes on the foliage symbolise small pleasures.  This is definitely one for the home.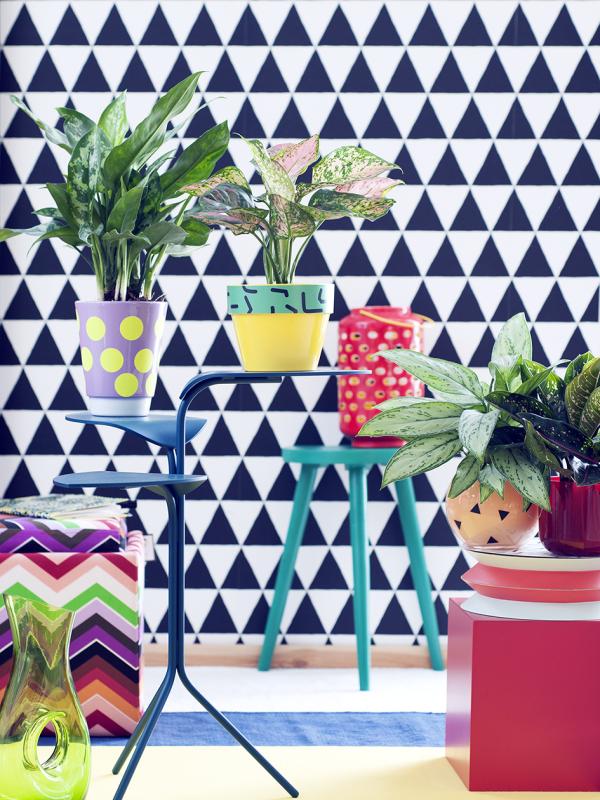 Attractive stress buster for busy days 
Aglaonema is also called Chinese evergreen, and that name captures its feng shui charm. The evergreen foliage represents purity, nature and the positive energy it radiates. It's the houseplant version of 'shinrin-yoku' or 'bathing in the forest', and has inspired many fashion designs. By surrounding yourself with a couple of Aglaonemas, you allow nature to help you get rid of your stress and regain calm. According to feng shui, positive energy can come from plants like Aglaonema' with its soft leaves and elegant shape.
Aglaonema works well with Yang 
You can harness Aglaonema's energy to ensure that your home gets the maximum benefit from it. For example, don't place the plant in a square pot; this blocks the Chi (energy) of the leaves. A coloured setting for the plant can increase the harmony in the home; it reinforces the active Yang element. You want that in your office and in the living room, but not in your bedroom - there you should surround the plant with smooth elements to allow calm Yin energy to flow. Most people place Agloanema low down in order to be able to look at the beautiful foliage. There's an argument for this, but if you place it higher - on the table for example - you will lift the energy to a higher plane and allow it to circulate better. The whole room will benefit.