The power of gemstones
Living greenery and natural elements are becoming increasingly important in interiors. By surrounding yourself indoors and outdoors with beautiful plants such as Calla lily and Balloon flower you create a mood of calm and harmony. Decorative semi-precious stones and crystals look great with a cheerful indoor garden with Celosia and Campanula. Some people believe that they also have a healing effect on their surroundings. It's not been proved, but it's nice to think that amethyst protects and rose quartz enhances your creativity.
Aromatherapy with lilies
Placing nature on a pedestal should have a matching home fragrance. Not chemical smells that are dispensed with the aid of electricity, but something like potpourri bowls with petals and herbs, or a beautifully scented lily, possibly on a flower altar. Lily oil is used in aromatherapy to create a sense of calm, satisfaction and safety. And those characteristics fit well with this interior style, in which your home is the place to which you can retreat in order to recharge.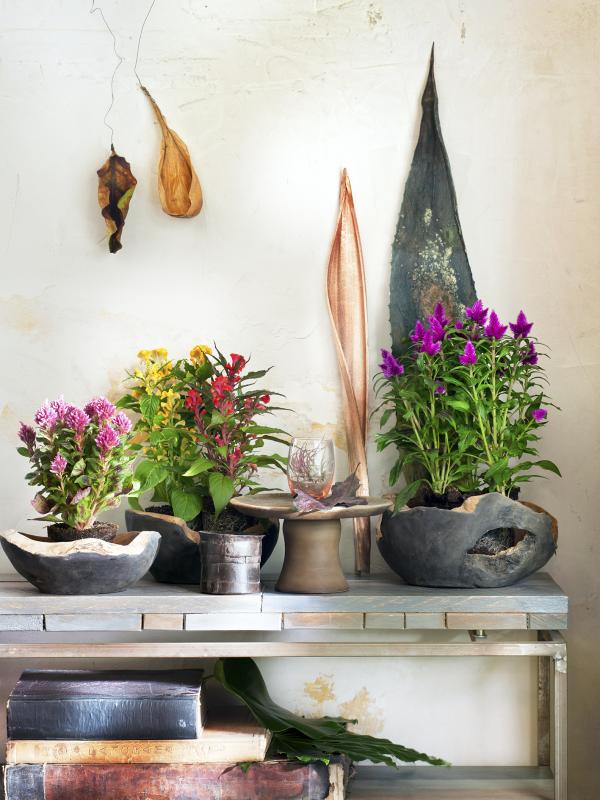 Eternal peace
Alongside In&Out plants and precious stones, other natural finds also fit well with this style. You might thereby think of petrified wood, fossils and attractive stones, but also framed leaves, mini-gardens and dried flowers or bouquets which incorporate herbs alongside flowers. Water and air gardens also have that effect. Bringing together unusual forms of these materials also represents a celebration of nature that makes your home even nicer to live in.