Azalea, officially known as Rhododendron japonicum and also known as Azalea japonica or Azalea mollis, is a deciduous azalea. Virtually all varieties are hardy in the UK, and their cheerful, flamboyant flowers bring a hint of the East to your garden or terrace. They flower vigorously and elegantly as a shrub, but also come in mini pyramid shapes or even in lollipop tree forms. The romantic flowers are white, pink, red or burgundy, but there are also Azaleas with bicoloured flowers. The shape of the flower can also vary, from large and small to double and single, and there are deciduous varieties that prefer shade. The evergreen variety can be identified by the smaller green leaves and can also tolerate full sun.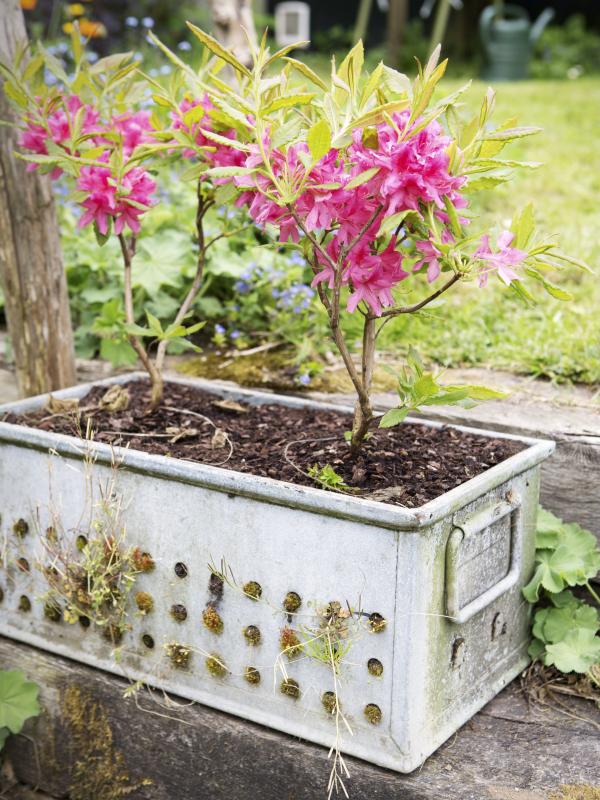 Ideal bonsai shrub 
The ancient versions of the Azalea have been around for 70 million years. The plant is native to Japan and China and is a member of the Rhododendron family; there are more than 150 species. The colder the region, the smaller the flower, but the Azalea is a tough plant which even grows and flowers in the Himalayas. It may be low-growing and produce mini-flowers there, but there are plenty of them so that they still create entire fields of pink. The plant that we know in the West was originally cultivated by Buddhist monks and brought to Europe during the days of the Dutch East Indies Company. The Azalea is a wonderful plant for lending colour to a garden with a Japanese feel, and is also suitable for bonsai techniques. 
Azalea trivia
The name is derived from the Greek word 'azaleos' which means 'dry' and probably refers to the plant's woody branches.
In China the Azalea is known as the 'I'm thinking of home' shrub.
The azalea is also the national flower of Nepal, where it's mentioned in ancient medical texts.
In Japan, giving someone an azalea symbolises giving them happiness.