Just for her: a lovely den
Get away from it all for some R&R
We're all familiar with the idea of the man cave: the room or cellar where men amuse themselves with games consoles from the 1990s, where they shamelessly Google endless Star Wars trivia, play music full blast whilst practising their rap skills, play poker with friends, work on their six pack or even better: watch sport whilst building a beer can pyramid. Luckily we ladies are not just sitting back and watching this happen: fabulous she sheds - or feminine dens - are cropping up more and more. 
Summer is gradually being replaced by gloomy days and chilly evenings. Autumn is upon us so grab a comfy outfit from the wardrobe, pair your new favourite trousers with a lively print and soft cashmere sweater. With relaxed soul as your background music, you can take the time to potter. Get away from it all and recharge!
A second home
Your den can be anywhere - in the summerhouse, in the attic, in an allotment shed. Will you keep it as your personal sanctuary or as a special place to share with girlfriends? 

Immerce yourself in your own world 
Surround yourself with your favourite objects to make your feel at home. Photos of family, memorabilia, artistic creations, your latest craft project, pretty crockery for those special afternoons with friends, and lots of flowers and plants to bring the place to life. Why lots of plants? Not only do they fit perfectly into your (green) oasis, but they'll also improve the air quality.
A place to recharge and relax
The great thing about your own space is that can do with it what you want. You're as changeable as the seasons, so go with the flow! Whether you're working on your autobiography or painting your toenails in a boisterous colour – who cares? Do what you like!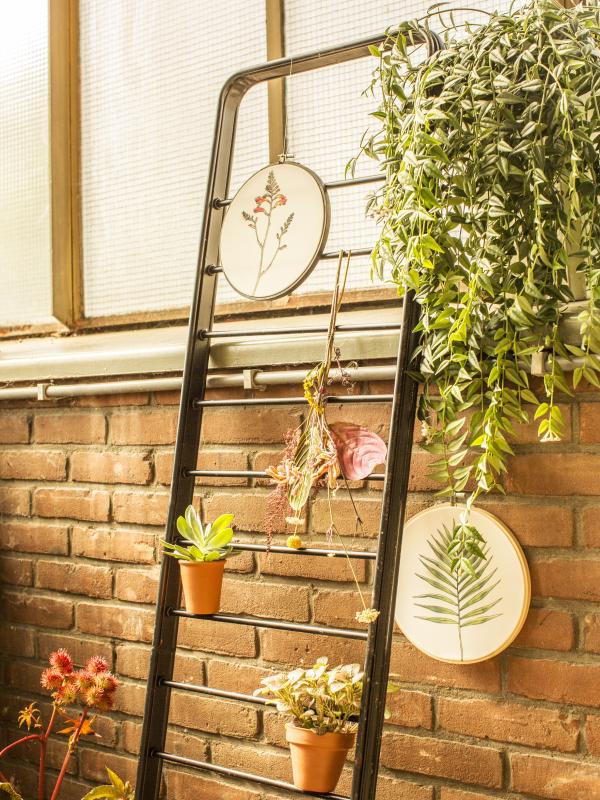 Quality time with yourself
Furnish your den in a style you love. Cabinets are transformed into a display case or mini-altar and a ladder serves as a holder for plants and art. On the table there are botanical finds immortalised in epoxy resin, a green necklace made with elements from the garden, and a banana and walnut cake begging to be eaten.
From park and parties to ponchos and umbrellas 
Autumn not only marks the end of the summer, but also the end of the season of blooming trees and outdoor activity. Preserve that summer feeling in beautiful pots. Looking ahead to the coming months, it's a good idea to think about the changes that this season brings. Remind us, Mother Nature: why do the leaves fall from the trees? Oh yes! You shelter under ponchos and umbrellas, so it makes complete sense for plants to have a bit of extra protection as well. You can read here about what plants you should prune or move indoors.