Flower crowns
We're forever busy in the garden: mowing, hoeing and pruning. Garden Day invites us to stop doing, and just be. It's the chance to enjoy all the hard work you put into your outdoor space: roll out a rug, and relax with a book.
Of course, some of us find it harder than others to switch off, which makes the Garden Day activity of creating a flower crown with the plants and flowers in our gardens extremely inviting. And for those of us who don't have access to homegrown flowers, we could order a selection of foliage and blooms from the local florist or pick up a bunch in the supermarket and join in the fun. Then, Garden Day have invited us all to post a picture relaxing in the garden using the hashtag #GardenDayUK to share our handiwork with the garden community. You might even organise a video call with friends and family, where you all don your crowns and raise a glass to gardens together. Here's Mr Plant Geek, to show us how it's done.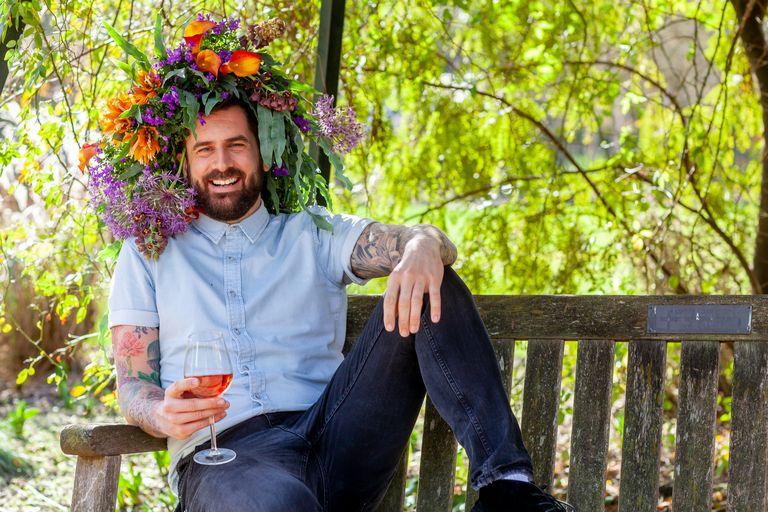 ---
Virtual garden get-together
Mr Plant Geek (real name Michael Perry) worked with us on our jungle hotel suite installation at Leman Locke. He is just one of the nine gardening experts, chefs and plant fans who have joined forces to support Garden Day 2020. They're here to help us celebrate with a one-of-a-kind virtual garden gathering. It begins with elevenses hosted by Arthur Cole from The Newt Hotel in Somerset, and runs all the way through to 4 o'clock drinks in the garden. Keep an eye out for flower crown tutorials with Jonathan Lycett, Liz Earle and Jonathan Moseley (who will even show you how to make garlands for your pets).
Garden tours
Originating in the South-West of the UK, Garden Day was launched in 2019 to encourage visitors to some of the most picturesque gardens in Somerset. Of course, the lockdown has put these plans on hold, but this beautiful interactive map of the region will allow you to explore the area's highlights from the comfort of your living room. Learn about Piet Oudolf's work at Hauser & Wirth Gallery, or admire the flower meadows at Forde Abbey Gardens, and draw up a bucket list of places to visit on Garden Day 2021.