Delicate feather shapes, fantastic veining and serene calm - they all look fabulous in your home. Botanical pictures are one of the oldest forms of art. The first civilisations that had time to be creative decorated their bowls and pitchers with motifs featuring herbs, leaves and plants. And in the 18th century the drawings by the botanist Linnaeus led to a real fad for plant illustrations. The current 'back to nature' trend lends a fresh twist to botanical art. It is no longer drawings of plants that are being framed, but the real thing. And not in a busy collage, but just a few leaves for an elegant and transparent effect. 
Contemporary nostalgia
Pressing leaves and flowers is still done in the same way as it ever was. You place whatever it is you want to press between sheets of absorbent paper, such as newspaper, kitchen paper or coffee filters. Make sure that the leaf or the flower is nice and flat, and is not folded over anywhere. Place the whole package in a flower press or under a pile of heavy books in a warm, dry spot for three weeks. Then carefully replace the paper and place it under the weight again. Wait until the leaf and/or flower is completely dry. Depending on the moisture in the plant, this can take up to six weeks.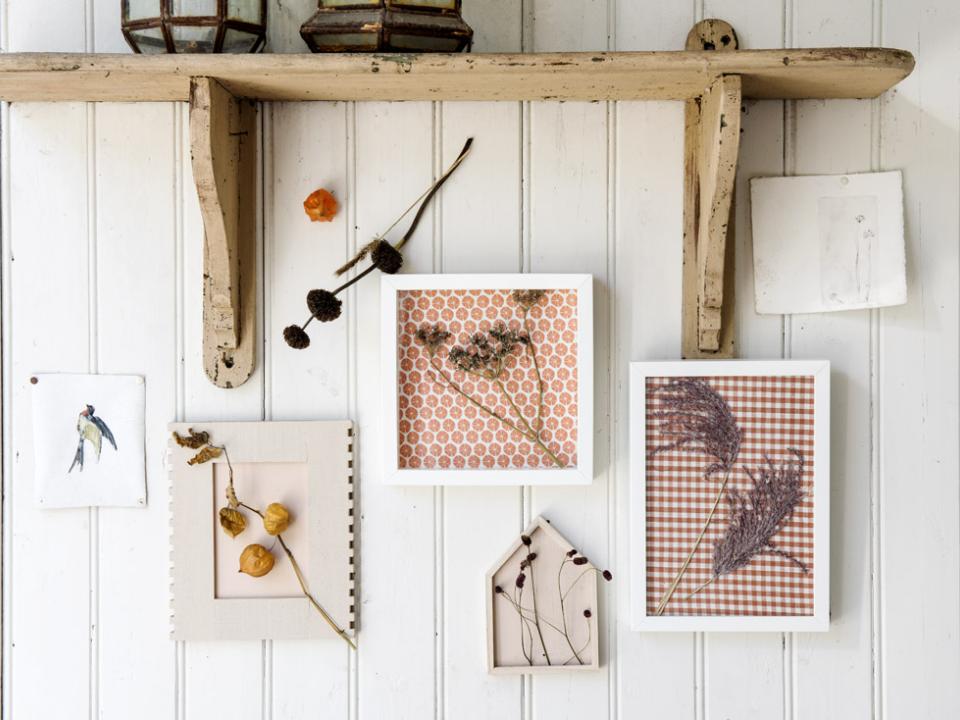 3D drying 
If you would like to dry your plants and flowers in 3D, e.g. for use in a vase, hurricane lamp or terrarium, just hang them upside down and leave them to dry in the air. You can also place them between silica gel granules. That's much quicker: about 2 to 3 days. If you want it even quicker, fill a baking tray with bird sand, lay the plant parts on it and dry them at 90-100°C. Check from time to time whether they're dry yet. The best effect is if the plant is already dryly rustling slightly, but still has its original colour. 
And now the finishing touch! 
If you're using paper as the background, you can attach leaves or flowers to it with a little glue at the thickest point. Leave to dry well before closing up the frame. If you want a transparent botanical artwork, place the leaves and flowers on a sheet of glass. Put a drop of glass glue on the corners, cover with an identical sheet of glass, and leave to dry thoroughly. Stick black or white tape around the glass sheets (they look better framed) and then you can enjoy your garden for as long as you like.