Sweet energy
Bright bursts of flowers in the hot colours of summer match well with energetic prints. This relatively small balcony has many bee-friendly plants, with yellow and orange lantanas in the middle wall planters, orange lilies to the left, and blackberry brambles peeking in over on the right. These honey plants are perfect for bees and humans alike: you'll love their colours, perfumes and tasty fruits.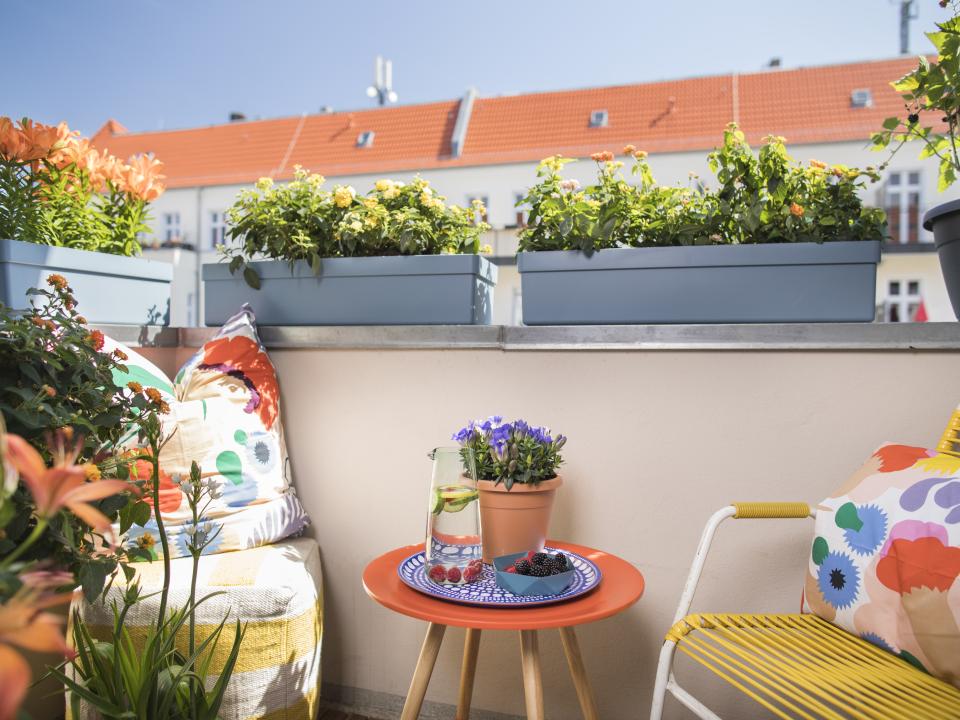 Urban/rural
Channel the countryside by training grape vine up a bare brick wall, like on the right hand side in the picture below. Add flowering plants in rustic planters to create a rural idyll in the heart of the city. Violet campanulas pair well with white begonias, seen above the vine, pink mandevilla on the right, and blue delphiniums at the back, beyond the pink hydrangea. These country garden plants are the perfect backdrop to a relaxing sit-down on your terrace, and will make the bees happy (and the butterflies too)!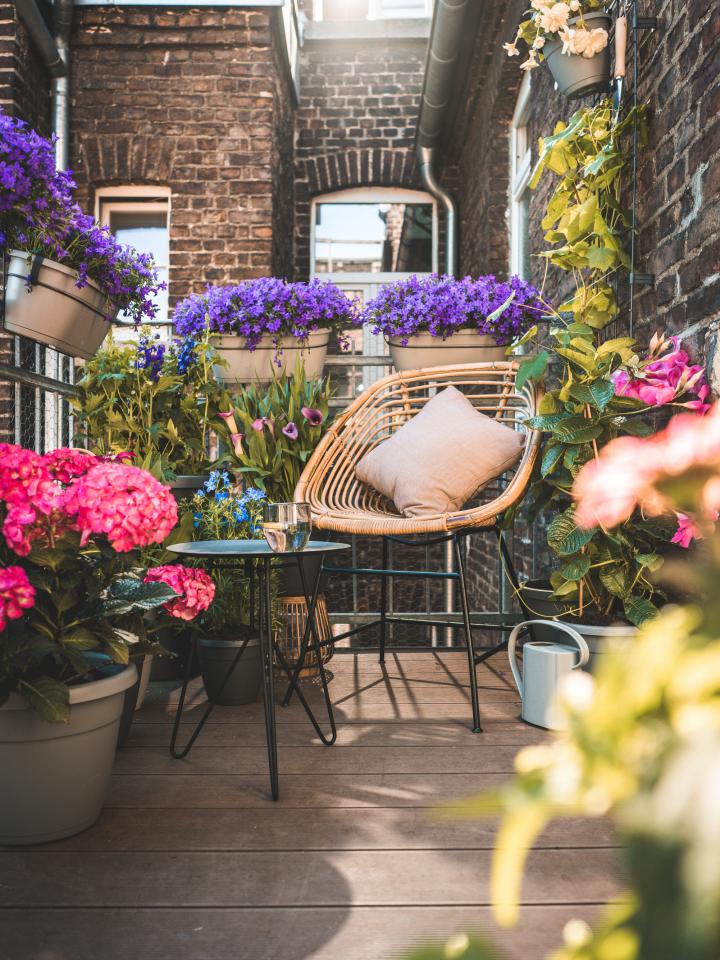 ---
Graphic freshness
Strong lines and refreshing colours in a compact, design-led style show this combination of honey flowers at their best. Design bee is a pure homage to graphism, with scupltural agapanthus, edelweiss, fescue, lavender, limonium and brunnera placed together in a pot for a compact result. Aside from creating an easy flight path for the bees, it's also a brilliant solution for optimising the space.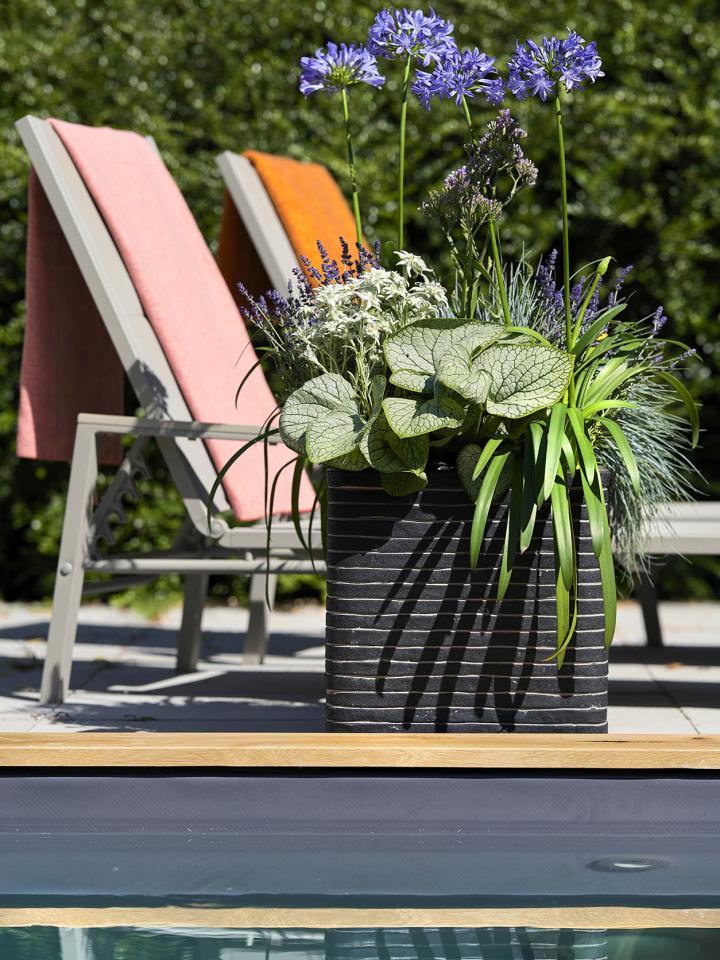 ---
Burst of summer
Create planting variety in a tiny outdoor space, without compromising on that feeling of spaciousness. Colourful lantana, lavender, cosmos and nasturtium create a concentrated form of summer that will transport you on holiday from the comfort of your little balcony. At the same time, they'll keep the bees at home happy.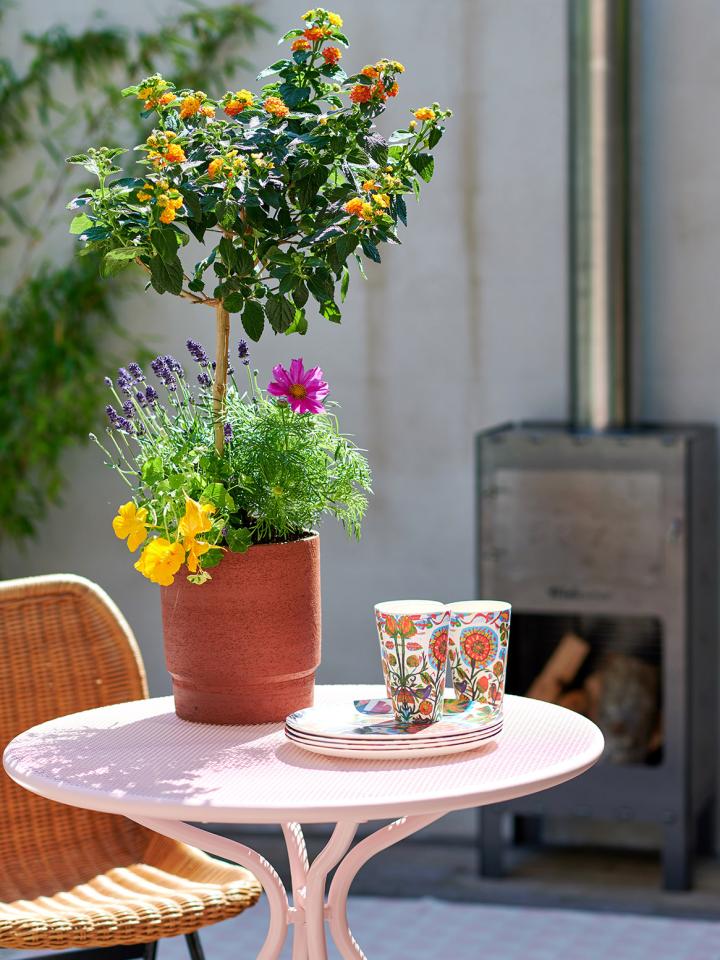 ---
Or mix and match
With a large range of honey plants out there, you can combine varieties to suit your taste, style and space. The more planting variety you have outside, the more transportive and relaxing it feels, and the more attractive it is for bees. To get started with your own planting design, try combining plants with different flowering seasons, spreading them throughout the summer months and beyond. Although the bees are active in spring and summer, they also hunt about for nectar in autumn and winter as well. It's kind to think of them when temperatures begin to drop, and flower are harder to find.
How are you giving bees a helping hand? Let us know on Instagram and Facebook using the hashtag #thejoyofplants.