The fairytale potted rose is exciting
Extend your boundaries beyond Earth's atmosphere
Deep colours, new combinations: it's going to be an exciting extraterrestrial summer with the potted rose if you give it a touch of science fiction and allow your imagination to run wild.
There's no doubt, 2016 is the year of the extraterrestrial. Just consider: the ExoMars mission will depart for the planet Mars, the spaceship Juno may reach Jupiter at any time, and the DreamChaser and the Orbital are bringing commercial space travel a step closer. And Star Wars: The Force Awakens will hardly have left the multiplex before Star Trek Beyond (in cinemas from 21 July 2016) arrives. The potted rose feels right at home in this extraterrestrial style, and is currently a blooming hit to infinity and beyond.
Prisms and mother of pearl
Increased interest in the cosmos is reflected on the catwalk in plenty of sparkling midnight blue from fashion labels including MSGM, Jan Taminiau and Rodarte. And in the style trend called The World Beyond. With this you can create a whole new world indoors with peepholes, mirrors, glass, crystals, mother-of-pearl and semi-transparent materials. The dark green leaf and the rich choice of flower colours such as dark red, lilac and purple mean that the pot rose fits perfectly into this look. Add a bit of drama to the pot by using crystals and semi-precious stones, creating a fantasy fairytale effect.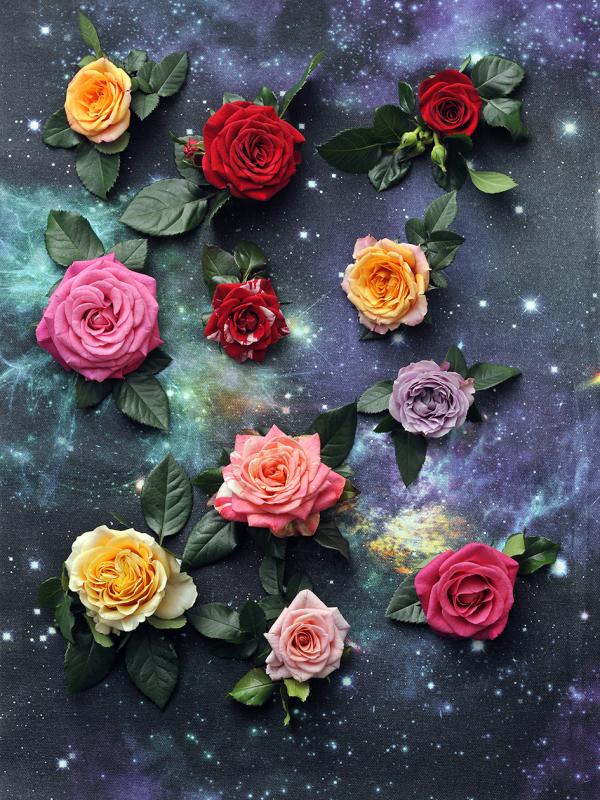 Have you heard of Messier 17?
There are even (potted) roses blooming in space. Messier 17 is a rose-shaped nebula of stars which are blooming some 5500 lightyears away. This is a 'star factory' in the constellation of Sagittarius that has already produced thousands of new stars. The core consists of some 800 little 'uns, with the slightly older stars swarming around them, lighting up the surrounding nebula in pink and red and making the whole thing look like a giant rose. Messier can be seen from Earth with the help of a good telescope between June and October.
A potted rose in front of a poster of the heavens produces pretty much the same thing. May the force be with you!