As a garden style, 'Indian Summer meets Mad Fall' is perfectly suited to people who have no interest in the 'falling leaves blues', but would rather skip and roll in those leaves. The trick is to keep the garden lively, even when there are bare branches here and there. Bamboo is an evergreen garden plant that always has something to offer: a cheerful shape, rustling in the wind, and it can cope with an autumn storm. If you're looking for colour, combine Hebe, autumn aster and sedum into a symphony of pink, yellow and purple.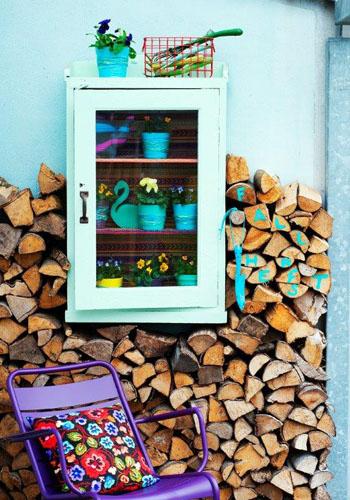 Fountain grass sways in the wind   
Eternal optimists who love to be stimulated can paint a birdhouse in bright colours and place the gleaming berries of Skimmia all around to give borders and containers a boost. The shapes in this style can be playful and eye-catching, and combinations can clash a bit. Try placing ling heather in a pot with a pineapple motif, and let the natural beauty of fountain grass sparkle in bright pink plastic. 
Pots with prints and dots 
The material that pots and containers are made of is less important than the patterns. Cover a couple of ordinary pots with stencils of leaves in red and orange, and stick red beads in between as berries. Or wrap an ivy around the pot instead of letting it climb. Plastic wickerwork or pots with busy patterns such as dots, plant motifs and checks also reinforce this style.  
Get the most out of autumn 
The colours for this garden style are pale brown, orange, pink, red, purple, blue, saturated green and black. You can mix them all up, and autumn violets will do wonders in creating a garden you never get tired of.