Autumn trend 2016: playing with contrasts
Green geometry brings peace to the garden
After a busy, hot summer it's nice to reboot your garden into something a little more tranquil, with green lines and optimum use of the space. 
The proportions in your garden change during the autumn. Falling leaves create more space at the top, allowing more light in. But the ground can look messy, so spend a sunny afternoon outdoors raking and sweeping. More openness and less greenery because of falling leaves mean you need plants that can guide the eye, such as fountain grass or pampas grass. These green personalities help lend structure to an autumn garden, and ensure that there is also something going on higher up.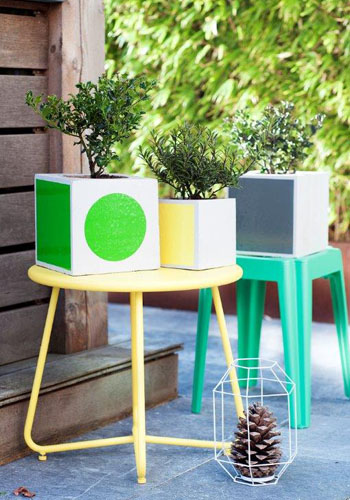 Playing with Skimmia 
Peaceful sightlines can be created with geometric shapes.  There can be a simple rectangular container filled with the greenery and shining red berries of Skimmia or the purple of ling heather, but buxus in a triangular shape or a trapezium made of autumn violas also look great. Containers and borders that extend from your house help create a smoother transition between indoors and outdoors.
Smooth, shiny materials    
When it comes to materials, think of smooth and functional, be it concrete, wood or plastic. High gloss and lacquer reflect the beautiful autumn light, whilst a couple of pots with a geometric pattern provide the finishing touch. And now there's more space because the pergola has become visible again, this is the moment to hang up those cheerful outdoor fairylights, which brighten the garden evenings now it's getting dark earlier.
New autumn fashion 
This style is dominated by striking colours such as warm brown, the golden yellow of changing leaves and the grey of the sky. Supporting colours are the purple of the heather and red as a cheerful note. It's best to use these symmetrically, to further help create a peaceful look.