Autumn trend 2016: Colourful excess
Continue to enjoy a garden that embraces and moves you
Spiders webs with dewdrops amidst green foliage that changes colour and then turns into finest lace. In the autumn everything seems to be tied together with silken threads. 
Let it go, let it fall: An autumn garden looks best if you let nature take its course and don't tidy up too much. And that natural nonchalance has its benefits. Fallen leaves decay and become nutrients in the soil of their own accord. You do small garden animals a great favour by leaving the debris, since twigs and leaves help them to build nests now that the nights are getting ever colder. And sitting in your garden is always more fun than raking, sweeping and trimming. To create some movement amidst the stillness, plant fountain grass, with its stalks and plumes rising upwards as everything else is falling.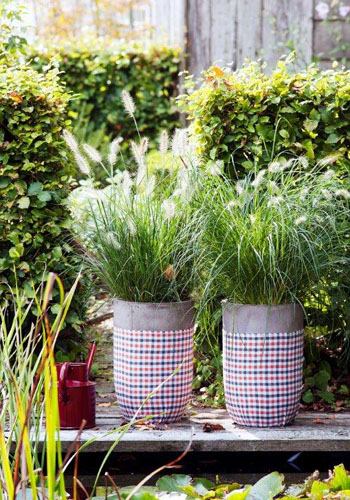 Close the circle with holly    
Round shapes play a key role in this style trend. Which is very appropriate, since the circle of the seasons is almost completed. To create harmony, introduce these shapes in various places. How about a round bistro table with striking holly or checkerberry on it, a large dish as a mini pond on your garden table, or a fire bowl for the first cool evenings. The circle symbolises connectedness, and is the source of all human civilisation: the first stories were told round a campfire. 
---
Skimmia makes it totally autumn     
Keep the shapes calm and natural: wood, terracotta, ceramic or plastic with a wicker or wood structure go beautifully with an autumn star like Skimmia. You can maintain harmony by grouping on the basis of material, such as wood or stone elements, or on the basis of colour. You can do the latter with plants which are now turning a beautiful reddish green, such as Nandina or Leucothoe. This turns your garden into a colourful array in which everything fits together or is somehow linked. 
Warm seasonal shades
The colour chart for this autumn style features classic autumn shades such as yellow, orange and red, but also use green, marsala, brown and white - to symbolise the first hoarfrost - for a riveting autumn look.