Where to find your table
To create your table terrarium, you first need a shadow box table. This is a table with a box top and a transparent glass lid that enables you to see what's inside. 
What to put inside
One option is to create a layer of gravel or sand for the base of your terrarium – this can be bought from most garden centres or online. If you have a glass-sided table and want to add an accent of colour to complement your décor, add layers of coloured terrarium sand.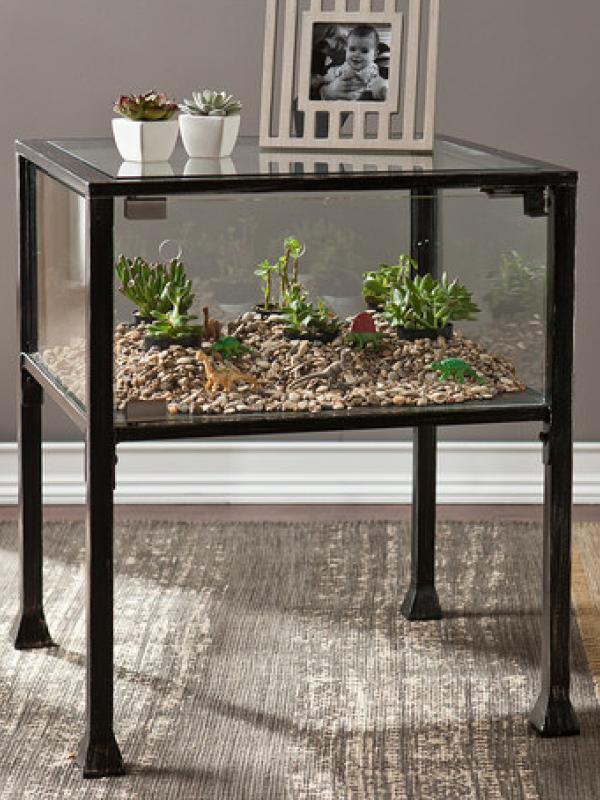 There are a wide variety of plants suitable for terrariums, but succulents make a practical and attractive choice because they are low-maintenance and available in a beautiful array of colours – from mint green to dusky pink.
To add a whimsical element to your display (that children will love), why not add some tiny toy dinosaurs to your miniature landscape?
Small rocks and stones can placed among your plants to turn your display into an indoor rockery and add contrasting colour and texture.
Do it yourself… or don't
If you're handy with a hammer and nails and feeling really adventurous, you could even build your own terrarium table from scratch. There are plenty of online videos to take you through the process, step-by-step.
Or if you'd prefer, leave it to the experts and have a bespoke terrarium table made to your own specifications to tie in with the rest of your home décor.