Summer trend 2016: your garden as an exciting fairytale
Enjoy mysterious plants packed with shapes and stories
How wonderful is a summer garden in which you can wander, discover new things and doesn't require a lot of work? This might just be the perfect style trend.  
On lovely summer days you'd probably rather be enjoying your garden than working in it. By allowing your plants a bit of freedom as well, you save yourself huge amounts of work and create an environment that allows you to stretch the boundaries between fantasy and reality. Think of natural ponds where water plants and marginal plants merge, and try leaving the moss between the paving stones instead of removing it: it looks great and is a lot less hassle. To make your fairytale even more beautiful, place romantic roses where they can be seen from your house. Plant them in the soil, but also consider a mini-rosarium in which you combine a standard rose with some sizeable pot roses to create a stylish Sleeping Beauty effect.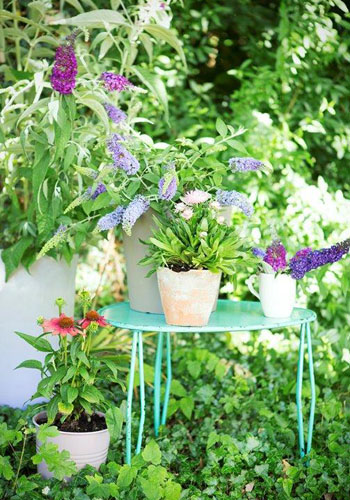 Buddleja as a blooming arch
Arch shapes and frames lend more depth to your garden. The elegant hanging flowers of Buddlejas planted opposite or beside one another form a blooming arch to walk underneath as the butterflies dance around you. The voluminous panicle hydrangea is also recommended for framing. The plumes create slight movement in your sightline, and by placing it a little higher and hanging a garden mirror behind it you can really fool the eye.
Fairy-like panicle hydrangea
A dream garden which speaks to the imagination can also accommodate plants with red foliage such as Virginia creeper, or perhaps a large foliage begonia, Japanese maple or Heuchera. Amidst all that colour a panicle hydrangea emerges serenely from the soil like a fairy. Your pots can be shiny and have colour-changing effects - think of surprising shapes like a stool that resembles a wooden mushroom and containers with splashes and water rings. Place a trendy fire bowl on the patio for a fairytale effect and then make a wish under a sparkling canopy of stars. A meteor shower can be seen on 27 July at around 1 a.m., and on 12 August you will be treated to the Persieds' shooting stars #dreamsummer!
Mysterious colour palette
Combine red foliage with dark blue and green, and use pink and lilac accents as highlights. By creating contrast - for example a dark red rose in a forest green pot - you can create attractive visual tension.