Summer trend 2016: natural nonchalance
Plants, animals and you - all in harmony, together in the garden
Let a wide variety of plants, attractive eco-elements and warm circular shapes embrace you: this is a garden style that makes you feel right at home.  
Good news for those who don't enjoy raking and weeding: in this summer trend weeds are reassessed and given their rightful place amongst other plants. If you want to spend the summer in a garden full of harmony, create coherence with plants of the same species or the same colours. Flowers such as the coneflower and the lily give a beautifully balanced look.
Circles create coherence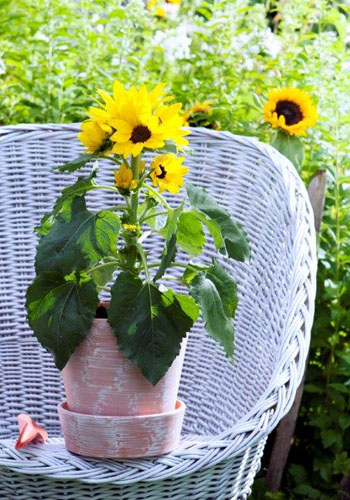 The circle is the leading shape in this style, in the form of circular borders, circular patios, circular ponds and circular garden furniture. Also consider (semi-)circular garden etagères or a large round garden dish as a small pond. The ultimate circle is - of course - the sunflower, a statuesque, cheerful classic which elegantly joins in with the circle of life in your garden. Not only can you enjoy (and wonder at) the visual impact of this living sun, but insects love it and later in the year the birds are delighted with its tasty snacks.
---
Summer trend with sunflowers and coneflowers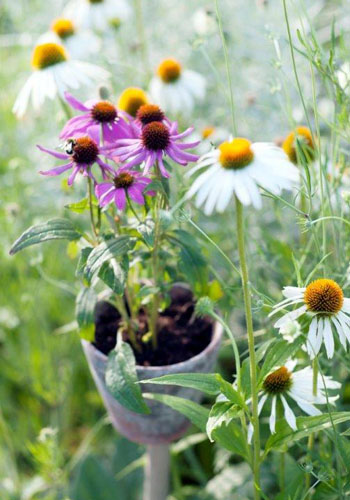 The shapes in this style are calm and clear. Choose materials with a natural look (wood, ceramic, stone) and make it new and more exciting with mixed materials such as plastic with a wicker core or plastic pots with transparent leaf patterns. One great way of creating harmony is to put different types of one plant together: the sunflower looks fantastic with yellow cousins such as the aster, English marigold and daisy and coneflowers combine beautifully with other prairie plants such as ornamental grasses, Verbena and sage.
---
Natural shades
In the colour chart for this summer trend, white and green play the main role alongside cheerful natural colours such as red, orange, terracotta, marsala and a hint of lilac, as if the palette has been kissed by nature.