Just as work and private life are increasingly merging nowadays, this style trend helps to make home and garden one space, and to link elements in your garden in a new way. Think of a border that runs partly over a pond, or a square pergola with a grape or kiwi as the roof for extra shade. It's all about playing with proportions and geometric shapes, like a round terrace that is interrupted by a square clipped hedge. To create a sense of order, use plants with strong shapes and bright colours to mark out the sightlines, such as African bush daisies, ranunculus and creeping zinnia.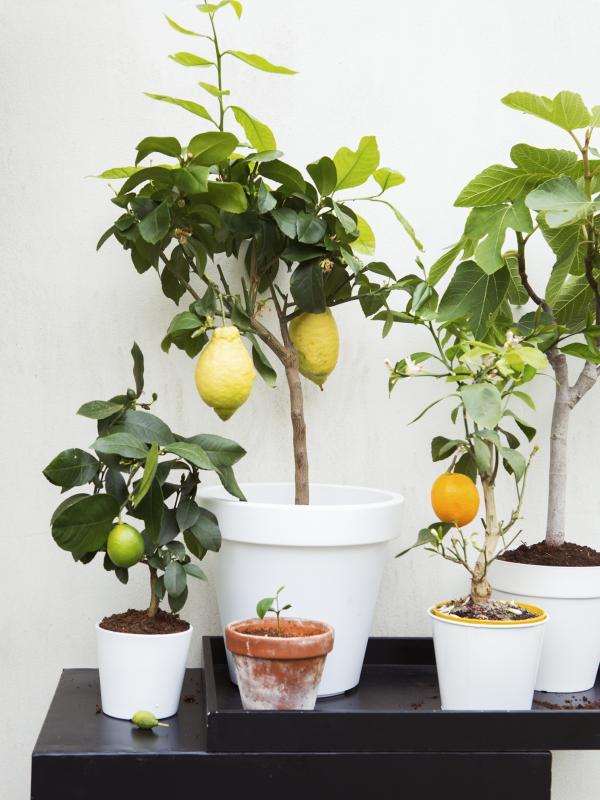 Bright and functional 
Keep it simple and high contrast: white and black as the main colours, supplemented with one or two primary eye-catching colours such as yellow, red, green or cobalt blue. Choose smooth and functional containers made of metal, plastic or lacquered wood, combine them with the yellow of primroses or the white of daisies to create spots of colour in your sightlines.
If an upside-down avant-garde garden set is a step too far for you, just echo the geometric prints in the cushions. If you need new garden furniture, sleek shapes with an open structure suits this style trend best. Think about visual triggers: a border that continues up the wall as a vertical garden, or a colourful line of containers with flowering plants like mini-petunias or azaleas on the fence. 
Colour palette overview
White and black are dominant, with no more than two primary colours to support. To make sure that everything doesn't look too stark and cold, supplement the materials with natural materials like wood. You can follow the examples in our photographs, pick a colour from our below chart so you can get your nearest paint shop to mix your colour combinations for you!