Makes 12
Ingredients
Meringues
3 egg whites
Pinch of salt
160g caster sugar
1 tsp cornflour
Shortcrust tart cases
500g plain flour
80g icing sugar
250g butter, cubed
Hibiscus and lime curd
250g sugar
2 tbsp dried hibiscus petals*
4 limes, peeled
125g butter, cubed
4 eggs, whisked 
​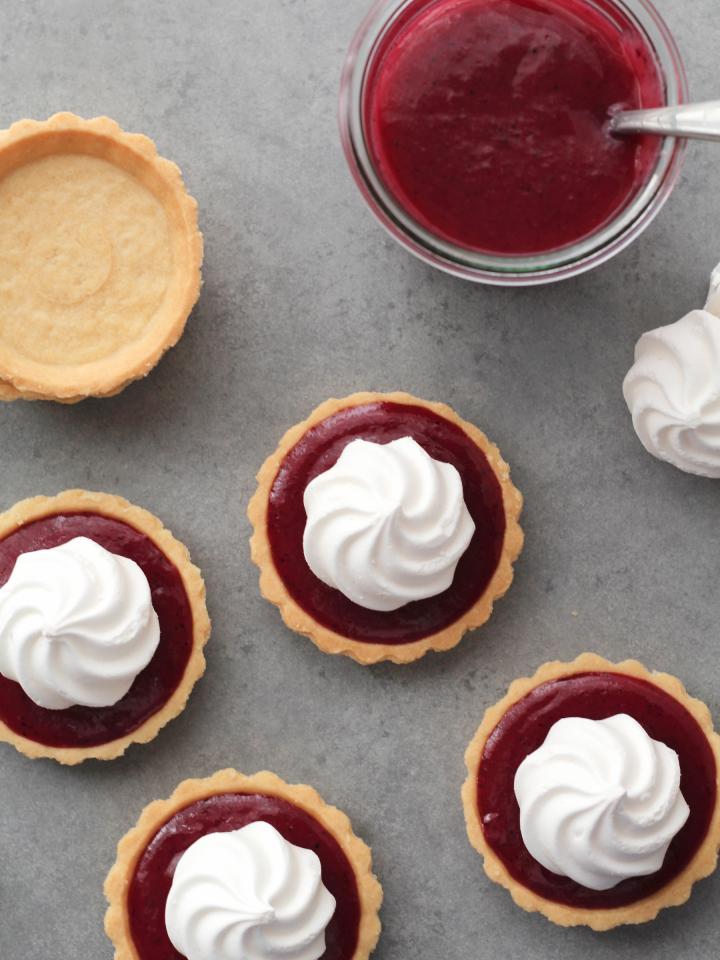 Method
Meringues
Preheat an oven to 120°C and prepare a lined baking tray.
In a clean, dry bowl whisk the egg whites along with the salt until they form stiff peaks that remain once the whisk is removed.
Slowly add the sugar, one tablespoon at a time, whisking after each addition. Add the cornflour and whisk briefly for a final time. The whites should be smooth and glossy.
Using a piping bag with a large star tip, pipe inch-wide mounds onto the lined baking sheet.
Bake for 45 minutes. At that point, turn the oven off and leave the door ajar for at least 90 minutes.
Shortcrust tart cases
Mix together the flour and icing sugar in a large bowl.
Add the butter and rub until you reach a breadcrumb texture.
Gradually add small amounts of water, kneading the mixture until a large ball of dough comes together.
Flatten the dough and wrap in cling film then chill in the fridge for half an hour.
Preheat the oven to 190°C.
Turn the pastry out onto a lightly floured surface and roll out until it is the thickness of a pound coin.
Lay into pastry cases and gently push the pastry into the corners.
Trim excess with a sharp knife. Using baking paper and baking beans, weigh down the centre of the tarts.
Bake for 15-20 minutes until lightly coloured.
Cool on a wire rack.
Hibiscus and lime curd
Add the sugar and hibiscus petals to a blender and blend until the sugar is powdered.
Add the peeled limes and blend until smooth.
Prepare a double boiler by placing a glass bowl over a pan of simmering water.
Add the blended mixture to the bowl along with the butter.
Once the butter has melted, stir the mixture together to combine.
Gradually add the whisked eggs until well combined.
Stir the mixture constantly until the curd reaches a thickened consistency that coats the back of a spoon.
Strain through a sieve and then spoon into the pastry cases. Leave to cool.
Once cooled, top the tarts with the meringue and then serve. If making ahead, store the tarts in the fridge and bring back to room temperature before serving. 
​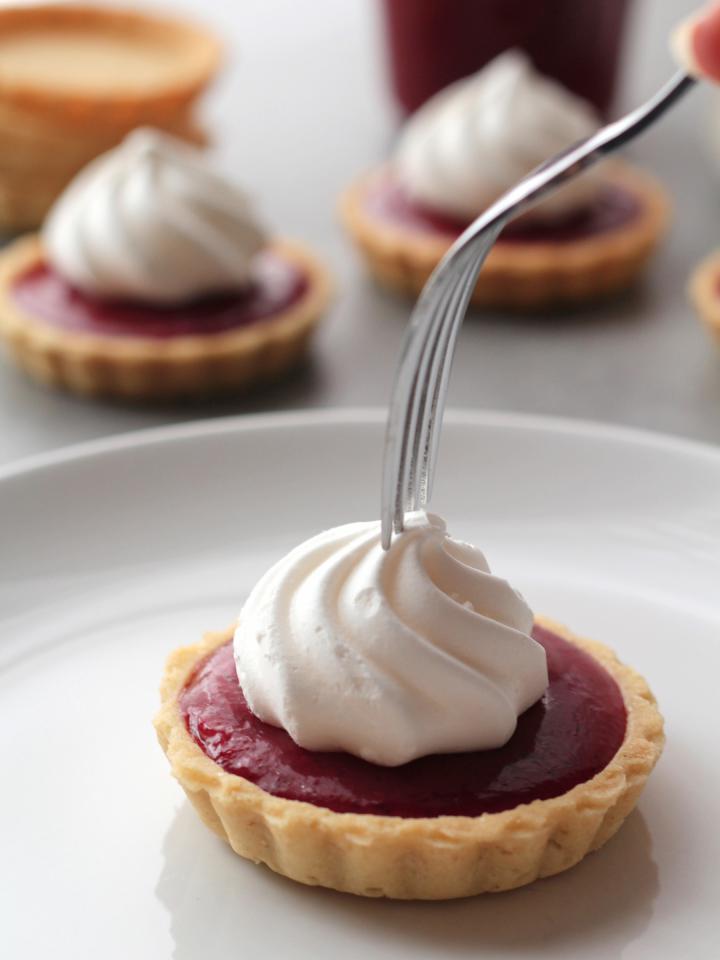 *Always ensure that the flowers you use are safe to consume. We recommend buying your dried hibiscus online here. 
If you like these, you'll love our delicious Hisbiscus Iced Tea recipe.
If you make a batch of these scrumptious tarts, be sure to share an image with us on Facebook, Instagram or Twitter!