Phalaenopsis to go
A coffee cup to brighten up your day
Lovely, useful, original and it makes a lovley gift: the ceramic coffee travel cup with a Phalaenopsis design, by sewZinski.
Cool Phalaenopsis & hot coffee
If there is one thing that the Phalaenopsis and a good cup of coffee have in common, is that both will instantly brighten up your day. This ceramic, hand-painted coffee cup has a dual purpose. Furthermore, your coffee will be kept nice and warm and no more paper cup waste which is better for the environment. Even better, you can order the cup at Etsy.com for yourself or as a unique (Christmas) gift.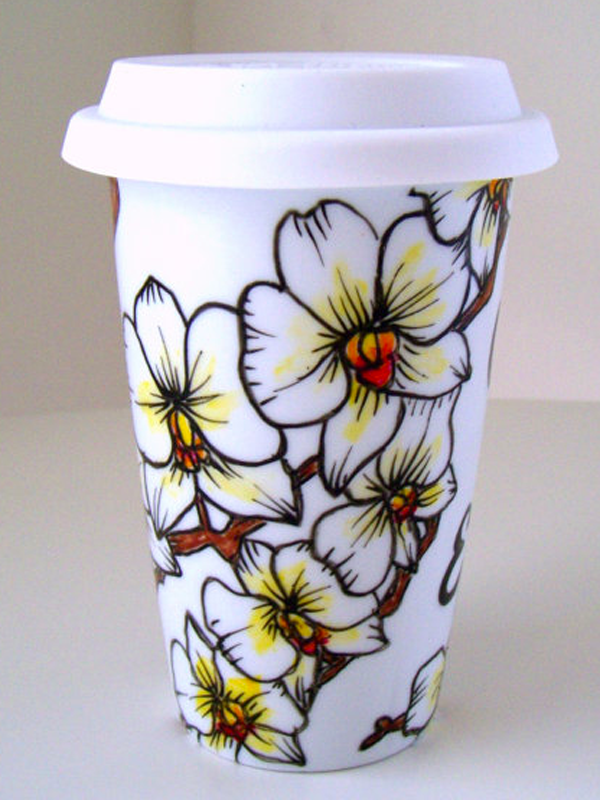 The Phalaenopsis as a source of inspiration
The designer of the mugs, Sarah from sewZinski, decorates all sorts of ceramics. Her favourite sources of inspiration are flowers and plants, which we can understand. Take a look at the slender Phalaenopsis, its special butterfly-shaped flowers and Zen-like feel. And we haven't even mentioned the colours of this orchid or its easy to care for qualities. That's what makes the Phalaenopsis a plant that's easy to love.
Photo credit: sewZinski, Etsy.com
Want to know more about the Phalaenopsis?
Would you like to know more about the  Phalaenopsis?  You'll find all the information you need about this orchid in the Plant Guide. On our sistersite Funnyhowflowersdothat.co.uk we would also like to show you how to make a bouquet with orchid.