Holidays: What to do with the plants?
Follow our tips to return to fresh and healthy plants!
Going camping or to a resort is great fun, but when you come home you don't want your plants to be as brown as you are. How do you change this? Here are our three top tips to give your plants some TLC.
1. Get some help
House sitter
One option is to ask a friend to pop by with a watering can. To make it easy, leave them a note advising on plant care such as 'Cyp (erus) enjoys a foot bath' and 'this (Calan) Diva is allowed to dry out slightly'.
Going away
If all your potential waterers are also on holiday or you want your plant to have a nice outing, then search online for 'holiday plant care' to find lots of solutions.  You can bring your favourite plants to stay with a plant lover, who will take care of them for a small fee or a favour in return.
Down the street?
How about organising a plant swap with your neighbours? This way you can take it in turns to look after each other's plants when you go on holiday.
2. DIY House plant care
A bit of refueling
Plants like company, but with a bit of help they can also be self-reliant. Soak thick cotton thread in water. Hang one end all the way down to the bottom of a bottle or vase of water and place the other end deep in the soil of the houseplant. By doing this the plant should be able to refuel for at least two weeks. This principle also works with a full bath of water: lay planks on top of it, place the plants on them and place the end of the thread through the drainage holes of the pot deep into the roots. The other end of the thread needs to lie on the bottom of the bath. You will need two or three threads for large plants and containers.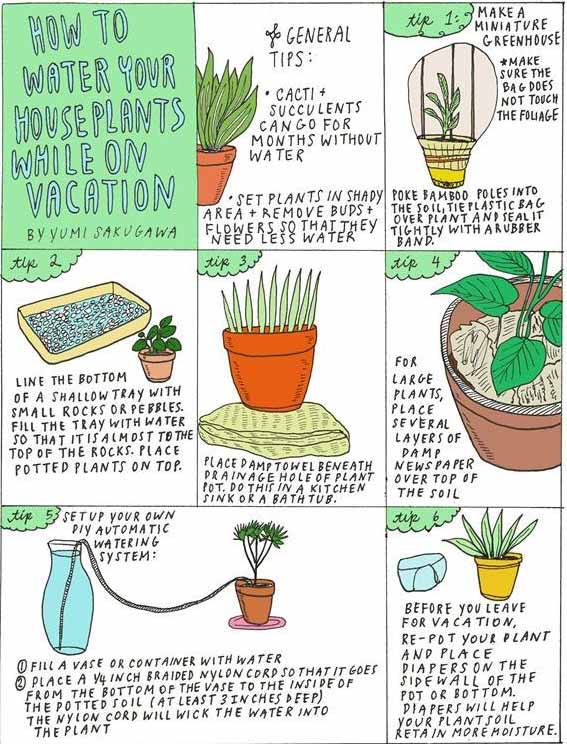 The towel trick
Are your plants in ordinary terracotta pots? Then fill your sink with water and check that the plug fits tightly in the hole. Soak a thick towel in water. Let one end lay on the bottom of the full sink and the other end on the draining board, either folded or flat. Place the pots on the towel on the draining board. The towel will suck up the water and release water to the porous pots. Read below more useful survival tips for your plants from The Secret Yumiverse.
3. A self-watering pot
Room service!
Another way to keep your plants fit is a tool from  Waterworks. This is a terracotta stick with a glass ball on top with a cork. You fill the ball with water, close it with the cork and stick the terracotta part deep in the soil. Because terracotta is porous, it slowly drip feeds the plant until you are ready to have a toast together again. 
A self-watering pot from IKEA can also keep soil moist with its own self-watering insert meaning that plants can be left for a week or two without needing watering.