Whether you opt for the full or slender version of Ficus cyathistipula, it's a statement plant whose shapes and stylised leaves look best against a light background. The large dark green leaves lend something theatrical to this indoor giant, but it has good intentions. The large leaves help to purify the air in your home and keep the humidity indoors balanced. That means it's not only lovely to look at, but also a real boost for a healthier indoor climate.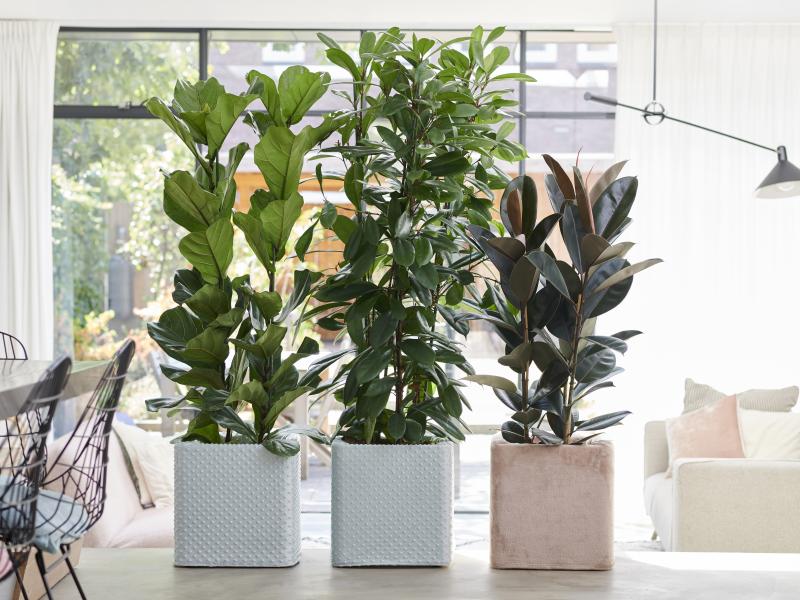 Colours and shapes
Ficus cyathistipula comes in a bushy version that is very useful for creating a calm green atmosphere in your home quickly and easily. It's also available as a plant on which the leaves are further apart: this looks more airy and is stunning in a modern interior. The plant is also offered as a standard. The leaves are fairly large: some 7 cm wide and up to 20 cm long. The slim, tall version of this plant can easily be used to create a room divider by placing a couple next to each other. Ficus cyathistipula has an eye-catching darker stem and can clamber straight upwards out of the pot with the aid of a support. If you would like it to climb even higher - which is possible, since it grows rapidly - it will need something to hold on to in the form of a cable, string or frame. This is one of the more robust ficuses that is also suitable for people who don't have green fingers.
Origin
Ficus cyathistipula is the African fig, a member of the mulberry family, and grows in tropical rainforests on the continent, from Ivory Coast in the west to western Kenya and northern Malawi. The plant prefers slightly damp soil, and can usually be found around swamps and along the banks of rivers. In the wild it can reach a height of around 5 to 8 metres. The scientific name 'cyathistipula' is derived from the fruit: a halved fig resembles a bowl (cyathus) and has eye-catching protrusions (stipula).
Symbolism
Ficus cyathistipula shares the meaning of fulfilling aspirations and dreams with the entire Ficus family. This makes the plant the perfect gift for a housewarming or a new job. Ficus cyathistipula's fruit floats, and is often carried along by flowing water. In Kenya it is also known as 'the river's gift.'