Enjoy the garden with kids
Play among the plants
Gardening can be so easy that it's practically child's play — and it's also rewarding if you can encourage your kids to see it that way too. The everyday tasks posed by your backyard are simple enough for children to carry out, and it's easy for them to have fun in the safe surroundings. We collected a list of activities to create an afternoon of fun in the garden, that will transform our outdoor spaces into a proper children's paradise. Plus, they're specially adapted for parents without green fingers, so you can encourage your children to get busy in the garden, without having to be an expert yourself.
Treasure hunt
For adventurous gardeners, lay a trail of treasure in the garden to discover, or go on a hunt to see what nature uncovers. Think of the joy of beautiful stones, a colourful flower, interesting branches and even an empty snail shell. As an extra surprise, we also thought of hiding a small tin with some treats, for the kids to find at the end. It's a well-reserved reward for all that rooting around in the garden. Get things started by drawing a garden treasure map, with hints and tips on where to look.
Garden art
If you collected up some larger stones on your treasure hunt, you can turn them into garden art, and use them to mark the border of the vegetable patch, or even to label the plants themselves. Paint the smooth faces of larger stones with pretty, colourful designs. If your children are practicing reading and writing, you can paint on the names of the plants for future reference. Or perhaps there's a carrot-shaped rock that, with a bit of orange paint, can be used to mark out where the root vegetable has been planted. Let the paint dry for half an hour, then cover the stones with clear lacquer, so you can use them in the garden for years to come.
Helping hand
Planting plants is challenging for young kids on their own, but it becomes extremely rewarding when you do it together. Put on the gardening gloves, dig the hole for the plant together, gently place the root ball in the hole and let your kids fill round the edges with fertiliser and pat down. Add a little water, some plant food and you're done. Feel the satisfaction, and enjoy how proud you'll al be when the plant's flowers begin to bloom.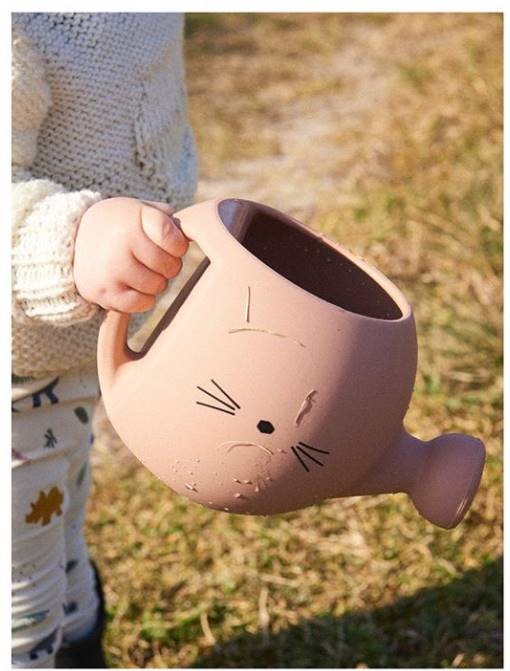 Liewood
Drip, drip, drip
For little children, watering plants can be a fantastic adventure. Given them their own personal watering can, and assign them the task of watering the flower beds each afternoon. Explain, as you go round the garden, why the plants need water, and how often you should douse them. Point out lush, green leaves, and dry crispy leaves, to teach kids the effect of a good watering regime. If you need a refresher yourself, then read all about how to keep your plants in top form here.
---
Weeding contest
Pulling up weeds isn't the most entertaining job in the garden for us adults, but you'll be surprised to find that kids love the power of pulling plants out and destroying them. Explain clearly to your eager helpers which plants are weeds, and how to identify them. Then let them loose to tidy up your garden (but keep an eye on your best beds, in case of over-enthusiastic hands). It's fun to add a competition element, too: who can weed the most in the shortest time? Ready, steady, go!
One of the nice things about having a garden is watching how it can become a haven for local wildlife. With the right plants and flowers, butterflies and birds will descend to your garden en masse. Attract even more cheerful songbirds by hanging tasty bird balls in easy to reach places, made of fruit, nuts and seeds.
---
Flower power
Dressing-up parties are always fun, and a homemade flower mask adds a sence of excitement and mystery. A masked party in the garden is fun with just one or two guests — yourself and your children. Collect the most beautiful leaves and petals from the garden to decorate your mask. Make a template in advance, from cardboard or paper, with holes for string, so you can tie it in position. Stick the leaves and flowers on, and hey presto! A mask is made. You can make butterfly wings, or even a crown.
---
We're interested to see your creations and hear about your adventures. Share your best garden moment with us on Facebook or Instagram with #thejoyofplants.