Create a magical festive tablescape for Christmas
By Fiona Leahy
Fiona Leahy offers inspiration and guidance on how to beautifully style your dining table with both flowers and houseplants this Christmas.
Adorning our dining tables with flowers, accessories and crockery to match has seen a surge in popularity as we've sought creative ways to make dining at home that little bit more extravagant and exciting. This year's festive season might look a little different with celebrations set to be smaller than usual but it's the perfect excuse to go bigger and better with beautiful décor and the most fabulously festive tablescape, filling every little gap with the beauty and joy of flowers… and houseplants.
While flowers and foliage feature in abundance in the tablecapes swamping our social media feeds this time of year, houseplants are less common, but certainly have a place at the table. To offer inspiration we partnered with tablescaping expert and stylist Fiona Leahy to create a tablescape which stands out from the crowd, will impress your guests and provide the guidance you need to transform your dining table with easy to get hold of seasonal cut flowers and plants. With houseplant sales also rising over lockdown, there's never been a more fitting time to get creative with the new greenery in your home – using it to complement the flowers in your tablescape. Fiona offers her top tips on how to make flowers and houseplants both the centre stage of your décor and festivities this Christmas.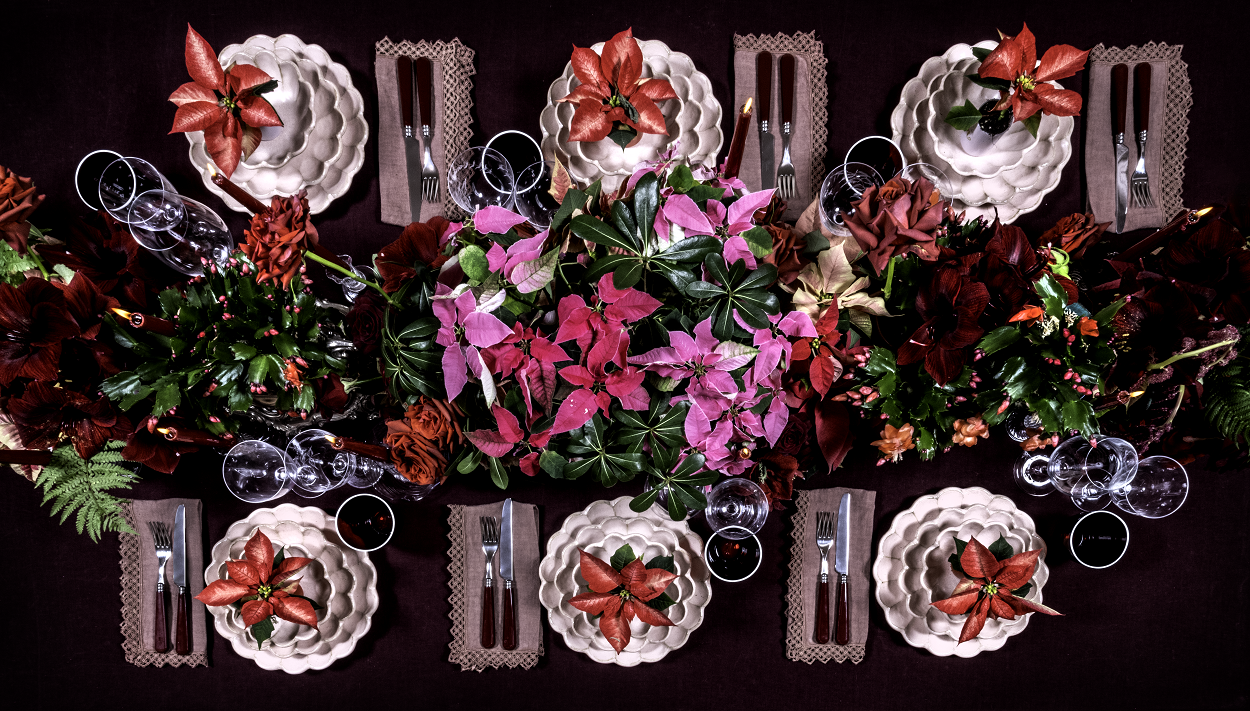 Personalise.
"Customisation and personalisation to tablescaping is key to impress your household or social bubble, and a creative guest placement is the best way to make them feel special. A miniature succulent or cactus in a reusable pot with their name written on with glass ink is the perfect way to give your guests a place at the table with the added bonus of gifting them a plant for their homes. A tiny narcissus planted in tea light holders also works wonders."
Create Movement.
"A tablescape with 'peaks and troughs' can create visual interest and the clever placement of houseplants and flowers are a great way to achieve this. Eye level height can be added with candlelight or an asparagus fern plant, combined with small bud vases to create a lower level. Bud vases are easy to assemble with simply three stems and a great opportunity to really showcase your favourite flowers. Fill them with my new favourite, choco-rust rose."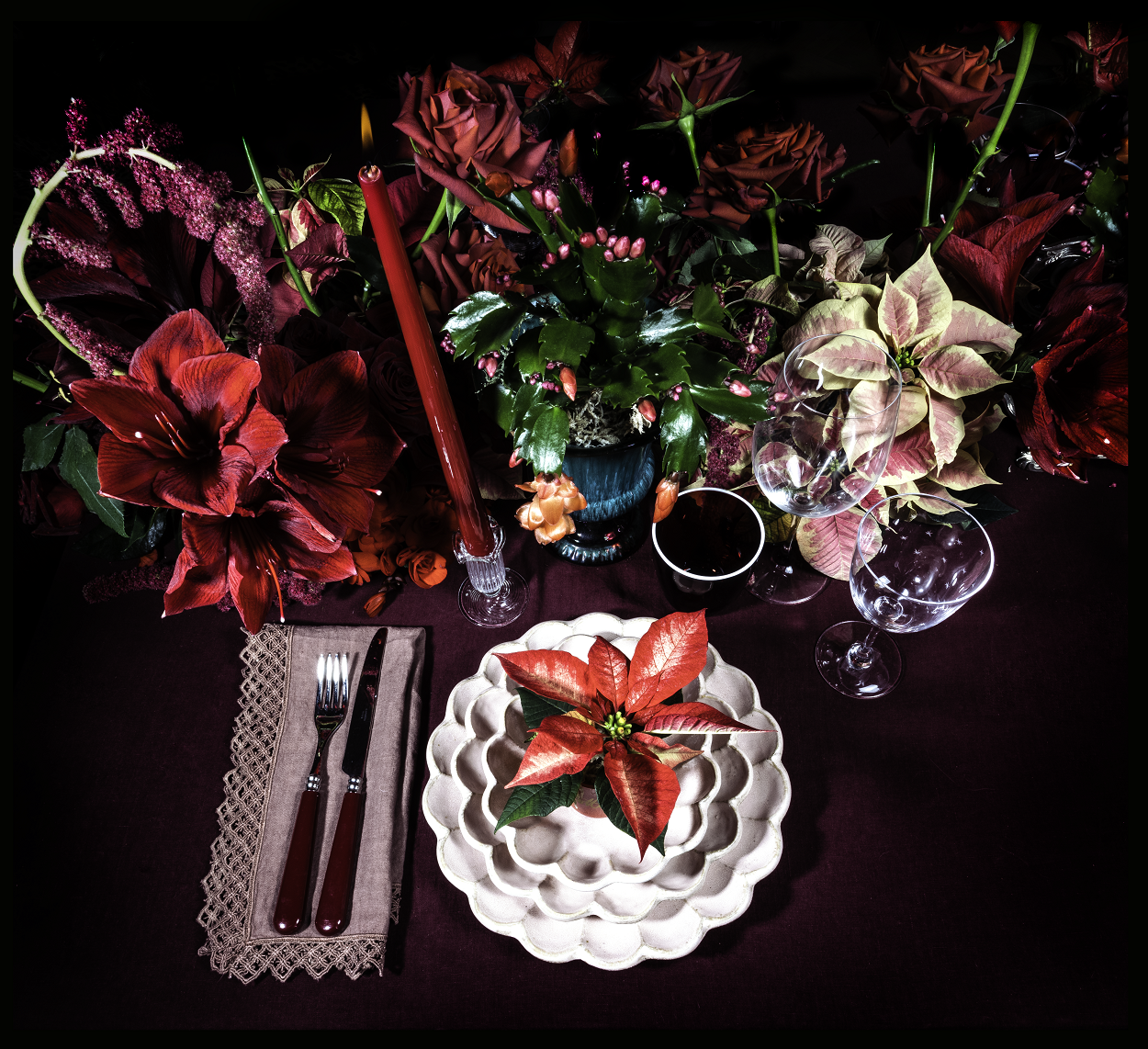 New centrepiece ideas.
"Cut flowers are so often used to create a centrepiece but why not use houseplants as well? This could be your favourite houseplant from your bedroom, or plants embedded in moss in a cachepot or planter. A line of houseplants in pots can also look stunning and form a beautiful runner effect – cyclamen, hellebores and hyacinths are wonderful choices."
Add richness.
"Working with different colours and hues is key to add richness and layers to your tablescape, which is why houseplants and cut flowers with different tones that complement each other work so well. Creating arrangements with all different hues of poinsettia from apricot to pale pink and a new marbled variety makes for a simply beautiful tablescape."
Matchimalism.
"Floral tablecloths matching the flowers from the print with the cut flowers on your dining table, or houseplants matching the touches of green weaved throughout your décor it creates a cohesive, harmonious look. An easy way to apply this is pick a print with your favourite flower on, match it to the real deal and go wild with cut flowers. Festive or not, this is a great way to incorporate less traditional options into the design yet there's no rules to tablescaping, it's a chance to unleash your creativity and go OTT so if you don't want to match, try pairing combinations of different flowers or houseplants instead."