Cineraria
A winter-flowering beauty with many facets
If you fancy some gaiety in your home during the dark days of winter, Cineraria offers exactly what you need: colour and jauntiness in all colours, shapes and varieties.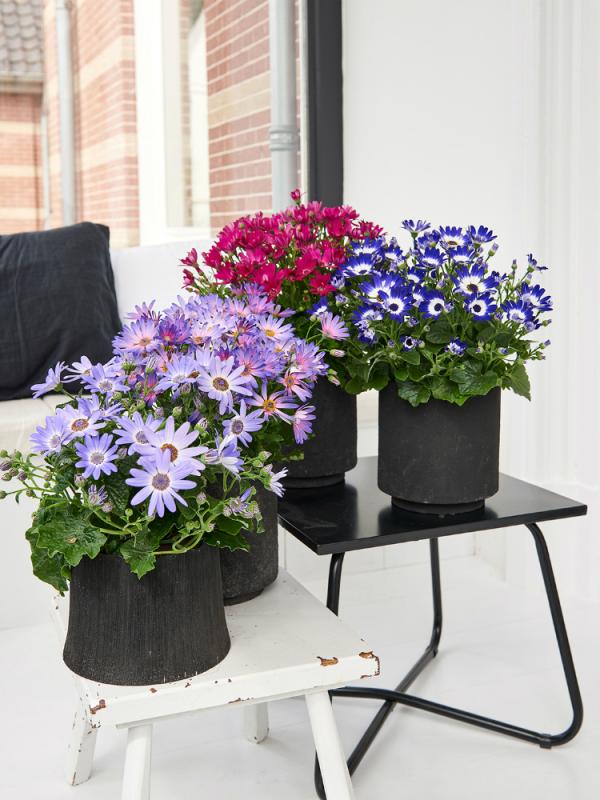 Colours and shapes
Cineraria has green leaves with a downy grey underside. That combination of green and ash grey sets off the fabulous white, blue, lilac, purple, pink, red and bicoloured flowers beautifully. There's an enormous range of choice. To make it even trickier, you can also choose between varieties with small or large flowers.
Symbolism
Cineraria's official name is Senecio cruentus, and derives its symbolic meaning from its full round ring of flowers, which symbolises protection. It's sometimes known as the 'bugs plant' - a name that gives us an itch. Where does it get such a strange name from? Well if the plant is placed in a draught or a spot that's too warm, it will quickly be covered in green bugs. Are you feeling the urge to scratch yet?
Origin
Cineraria has travelled from the Mediterranean region and the Canary Islands. It's no surprise that the plant has also become popular here. This winter bloomer carries you through the winter with its extravagant looks.